5-ingredient Salmon Burgers

5-ingredient Salmon Burgers made grain-free and ready in less than 30 minutes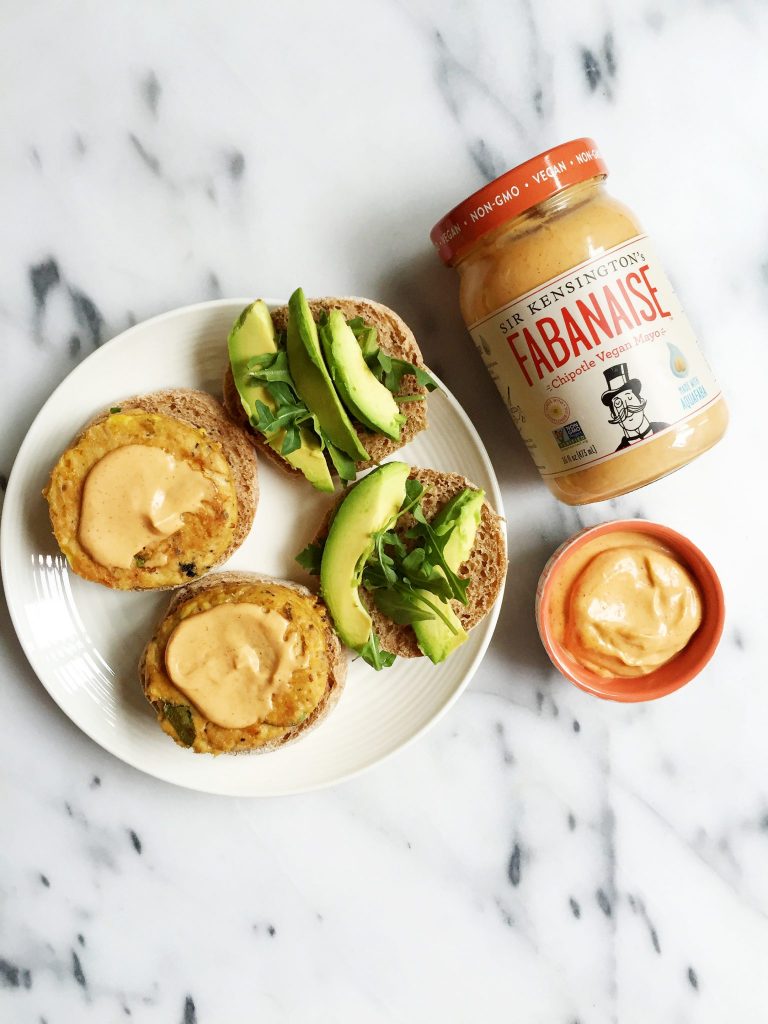 Have I ever told you guys about my fear of mayonnaise? Because it is real and it is REAL bad.
The smell of it seriously scares me to the point where I don't make traditional tuna salad because I get chills and want to cringe.
But then, this amazing thing happened. My favorite condiment brand, Sir Kensington's, is launched Fabanaise AKA vegan mayo that is straight up AMAZEBALLS (you may recognize them from this recipe). As soon as I heard about it, I had to try it and I am HOOKED. It literally is the first time in my life I can open a jar of mayo and not cringe.
And the even better part? It is completely non-gmo, vegan, gluten free AND it is made with all ingredients we can pronounce. Most vegan products I find to have a ton of with chemicals, but leave it to Sir Kensington's to continue to innovate and be a serious game changer in the condiment world.
Their Fabanaise is made with Aquafaba, which is made from chick peas. How amazing? 
They have two flavors: Classic and Chipotle. Both delicious and both staples in my fridge now. I purchase their products at Whole Foods so definitely keep an eye out for Fabanaise next time you are there (in addition to all the other products). When I first tried the Chipotle Fabanaise, I knew it would be straight up perfection in a salmon burger. It isn't too spicy so don't worry about that.
I crave salmon burgers on the reg. I often purchase the wild salmon ones from Whole Foods . They are really delicious and they with them panko and just a few seasonings.
Today we are making 5-ingredient Salmon Burgers that are grain free, gluten free and you can make them in your oven. Complete win for all my NYC apartment living readers because we all know making fish can get really gross really fast in our apartments.
For this recipe, we use canned Wild Alaskan Salmon. You can absolutely use fresh salmon and chop it up but that can be hard to find at times, plus it can get pricey. I also use almond flour, scallions, egg and lemon juice in addition to Chipotle Fabanaise.  So so easy to make babes, like too easy! Lay it on top of an english muffin with some fresh arugula, avocado and a little more Chipotle Fabanaise and FEAST!
[bctt tweet="Salmon Burgers made with 5 ingredients and ready in less than 30 minutes" username="rachLmansfield"]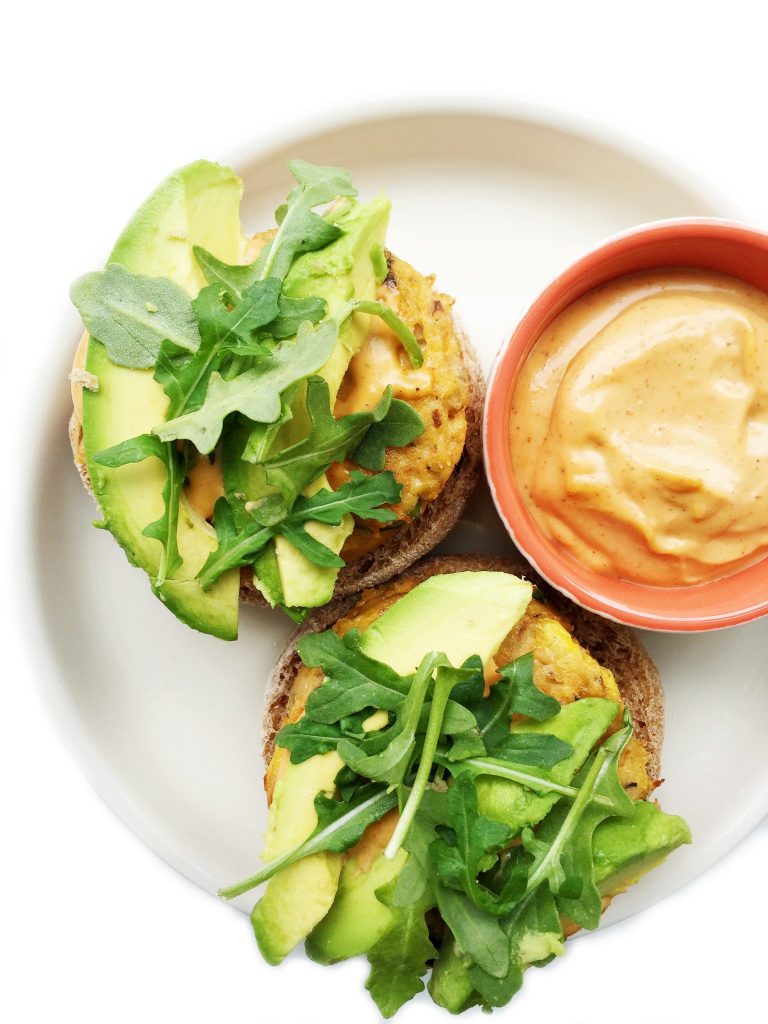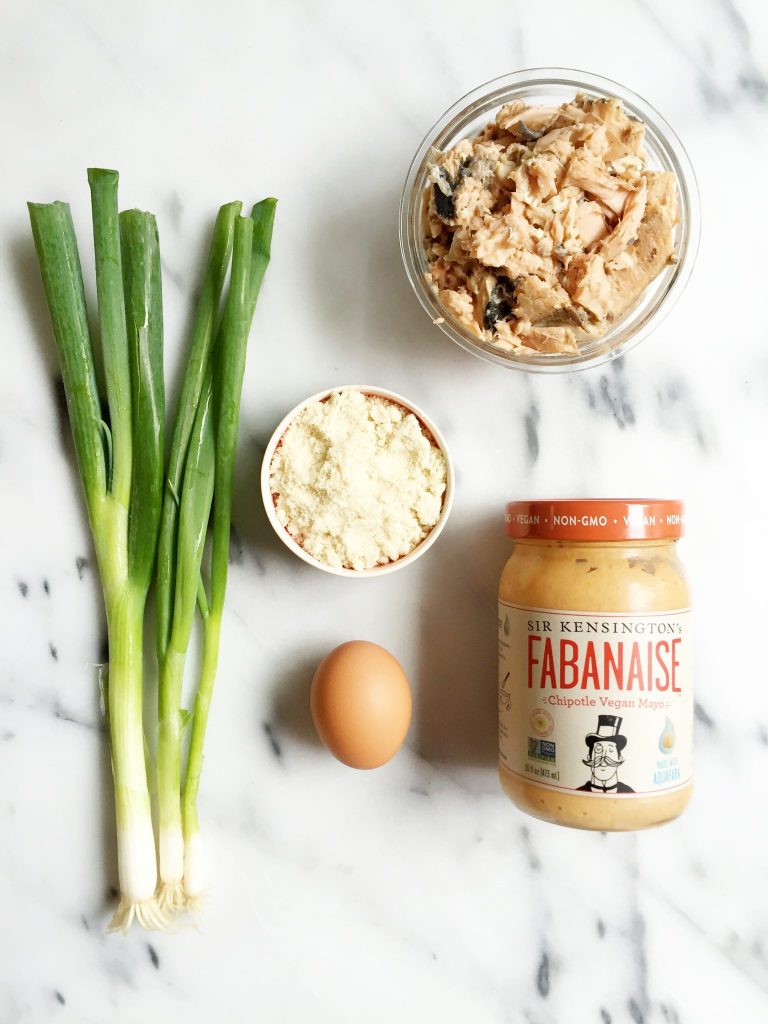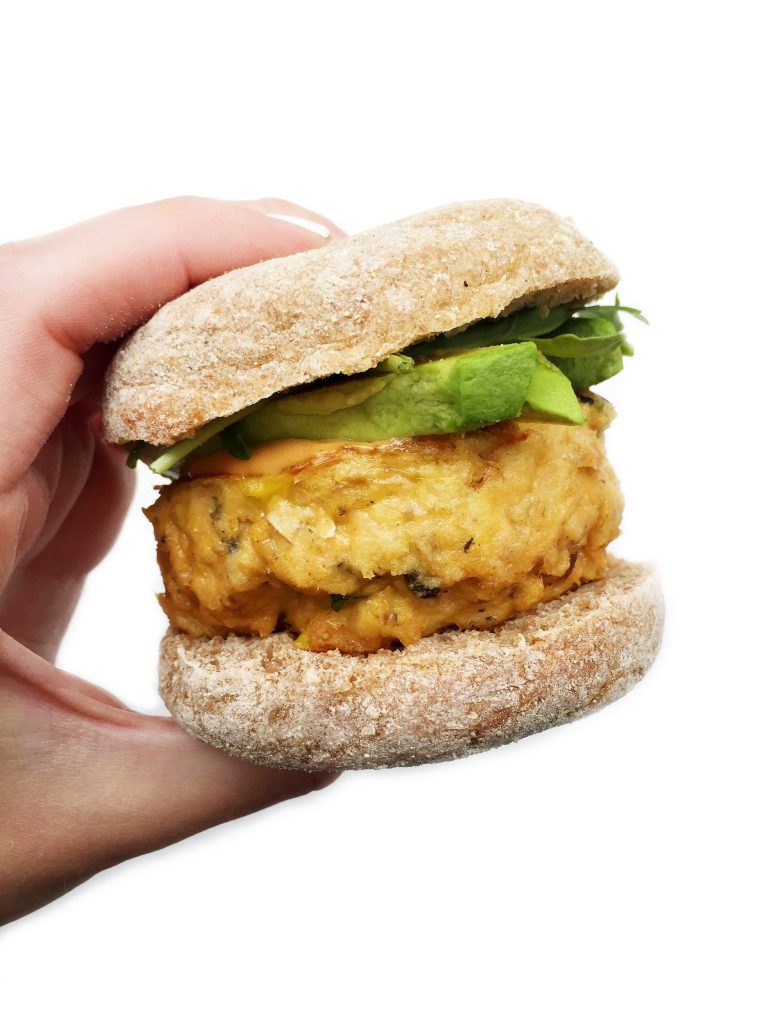 Print
Yield: 3–4 burgers 1x
14

–

15

ounces of wild salmon (canned or fresh but make sure it's chopped if fresh)

1/3 cup

almond flour (I have not tested other flours)

1

egg

1/4 cup

chopped scallions

2 tablespoons

Sir Kensington's Chipotle Fabanaise
Preheat the oven to 375 degrees
Line a baking tray with parchment paper
Mix together ingredients in a medium mixing bowl with spoon
Form into patties using your hands or a 1/2 cup to prevent smelly hands
Bake for 10 minutes in the oven, flip over and bake for another 10 minutes
Enjoy within 1-2 days with your favorite bun and burger toppings or put on salad!
xx, Rach
For more info about Fabanaise, and to grab a coupon to use in store, click here.

This is one huge ingredient!