BBQ Chicken Burgers

These BBQ Chicken Burgers are a protein packed meal you won't be able to resist!
As we embarked on the end of school this year I started switching gears and wrapping my head around all the exciting foods we would be eating this summer. Big chucks of watermelon, corn on the cob, fruit crisps, Heirloom Tomato Salad and of course, burgers! Last week I shared Salmon Burgers with Quick Pickled Cukes and this week I'm back with these BBQ Chicken Burgers for Rewind Wednesday. You'll never miss the beef with either of these burger recipes because they're so darn easy and satisfying. You can use light or dark ground chicken in them (the darker meat giving you more fat and flavor), if you're looking to sink your teeth into a burger reminiscent of what you would get at a fast food joint or right off your barbecue. What gives them extra zip and zing, though, is your favorite barbecue sauce you choose to add to them. No matter if you like them a bit more sweet, vinegary or spicy there are an enormous amount of sauces at the grocery store to satisfy your craving or you could even make your own. My only advice is to avoid the ones where it lists corn syrup as one of the first two or three ingredients as they will be a bit too syrupy, sticky sweet.
When you're planning a big get together and want a simple recipe to satisfy your crowd's cravings give these Barbecue Chicken Burgers a whirl. You'll be glad you did!
To me, summertime means burger time! I like to switch it up and get away from the usual beef burgers and instead try something different like these BBQ Chicken Burgers. If you have visions of a meal time mess, fear not. Since you add your favorite BBQ sauce into the mixture in this recipe, the burgers take on all the tangy, sweet and spicy flavor without it dripping all over you and your kids' fingers and clothes while you eat.
The next time you're having a party or family gathering whip up a batch of these burgers and look around at all the happy (and clean) faces!
Feed Me Phoebe_ Greek Lamb Burgers with Mint Tzatziki
The Lemon Bowl: Filet Burgers with Tahini Garlic Mayo
Creative Culinary_ The Canyon Creek Burger from Ted's Montana Grill
Healthy Eats_ Beef and Beyond_ 6 Reasons to Cook More Burger
Weelicious: BBQ Chicken Burgers
The Wimpy Vegetarian_ Crispy Mexican Black Bean Burgers
Homemade Delish_ Stuffed Bleu Cheese Burger with Buffalo Sauce
The Mom 100_ Buffalo Turkey Burger Sliders
FN Dish_ Now, That's the Stuff_ Stellar Stuffed Burgers
2

tablespoons

oil, divided

1/2

onion, finely diced

1

pound

ground chicken breast

2

tablespoons

BBQ sauce, plus additional for serving

1/2

teaspoon

onion powder

1/2

teaspoon

garlic powder

1

teaspoon

kosher salt

4

sliced

jack or mozzarella cheese

4

burger buns
Heat 1 tbsp of oil in a sauté pan over medium heat and sauté the onions and 1/2 teaspoon of salt for 4 minutes or until tender. Set aside to cool.

In a mixing bowl, combine the cooled sautéed onions, ground chicken, BBQ sauce, onion powder, garlic powder and remainder of salt and mix well.

Evenly divide the mixture into 4 pieces for regular sized burgers, or 8 pieces for mini burgers. Shape into patties.

Heat remaining tbsp of oil in a pan and cook the patties for 4-5 minutes on each side.

Place 1 slice of cheese on each patty during the last minute of cooking and allow to melt.

Place burgers on buns and top with desired accompaniments.
Calories: 280kcal | Carbohydrates: 12g | Protein: 28g | Fat: 13g | Cholesterol: 75mg | Sodium: 730mg | Fiber: 1g | Sugar: 10g
Published August 4, 2022 by Catherine McCord
Categorized in 4th of July, All Recipes, Big Kids Recipes, Cook Time 10-15 mins, Egg Free, Entrees, Family Meals, Gluten Free, Meats and Proteins, Nut Free, Sandwich, Toddler Bites, Toddler Recipes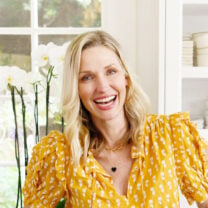 About the Author
Catherine is a mama of three. A Kentucky girl living in California. Here's what I know: all kids can be great eaters and mealtime must be easy. I create simple, healthy recipes the whole family will love.
This is one clever module.