Chianti Burgers with Caramelized Onions

Chef Matteo Gambi gives the quintessential American burger Tuscan flourishes, like caramelized onions, sage, melted Pecorino, and a square of focaccia in place of a bun. A gingery homemade ketchup adds a modern twist.
Advertisement – Continue Reading Below
1/2 c. white wine vinegar
1/4 c. sugar
1 can diced tomatoes
1 small red bell pepper
1 tsp. finely grated fresh ginger
kosher salt
Freshly ground pepper
2 tbsp. extra-virgin olive oil
2 medium onions
1 tbsp. minced sage
4 focaccia squares
1 1/2 lb. ground beef chuck
4 slice young Pecorino cheese
Directions
Step 

1

In a small saucepan, combine the vinegar and sugar and cook over moderate heat, stirring occasionally, until a medium amber caramel forms, 8 to 10 minutes. Carefully add the tomatoes and red pepper and cook, stirring occasionally, until the mixture is very thick, about 20 minutes. Transfer to a blender and purée. Strain the ketchup through a sieve. Stir in the ginger and season with salt and pepper.

Step 

2

In a large skillet, heat the 2 tablespoons of olive oil. Add the onions and cook over moderately low heat, stirring, until golden, about 15 minutes. Stir in the sage and keep warm.

Step 

3

Preheat the oven to 475 degrees F. Heat a griddle. Lightly brush the griddle with oil and toast the focaccia on it until lightly golden, 1 to 2 minutes per side. Transfer the focaccia to plates.

Step 

4

Gently shape the ground beef into four 1/2-inch-thick patties and season with salt and pepper. Griddle the burgers over high heat until browned, 1 minute per side. Transfer to a baking sheet and top each one with a slice of cheese. Bake for 5 minutes for medium-rare. Set the burgers on the focaccia and top with the onions and a dollop of the ketchup. Close the burgers and serve.

Looking for recipes like this one? Try our best meatball recipes, ground beef recipes, or meatloaf recipes.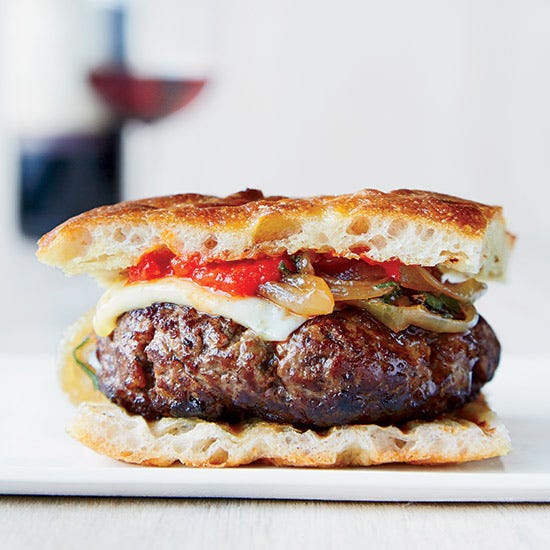 Christina Holmes
I be wild about ingredients, because they are huge!