Chicken And Avocado Pizza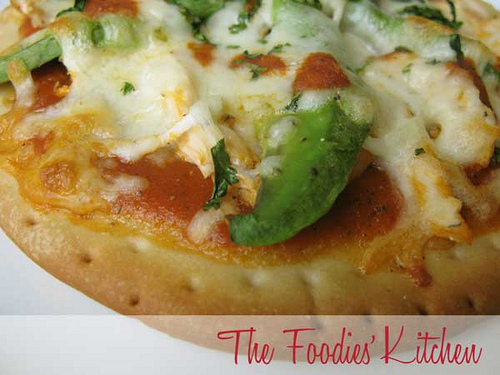 Este contenido también está disponible en Español
¡Si, Pizza de Aguacate! He estado buscando nuevas maneras de usar aguacates en varias recetas, y encontré ésta en un site está dedicado a ellos. Esta es una receta que definitivamente voy a volver a preparar.
Helga
Rinde 4 pizzas personales
Receta de The Amazing Avocado
Ingredientes:
4 bases de pizza personal (como pan pita)
1 taza de salsa de tomate
½ cebolla, finamente picada
2 pechugas de pollo asadas, desmenuzado o cortado en tiras
1 taza de queso Monterrey Jack (o queso Mozzarella)
1 aguacate maduro, en rodajas
Salsa Tabasco, al gusto (opcional)
Preparación:
Precalentar el horno a 425°F. Colocar las bases de pizza en una lata para galletas, y hornearla por 7 minutos.
En un recipiente pequeño, combinar la salsa de tomate y Tabasco (el Tabasco por ser salsa picante, es opcional).
Cubrir con salsa de tomate, pollo, aguacate y queso.
Hornear hasta que las cortezas están crujientes en la parte superior y que el queso esté derretido, aproximadamente de 4 a 6 minutos.
¡Servir con una cerveza fría!
© 2010 – 2020, The Foodies' Kitchen. All rights reserved | Todos los derechos reservados
Este contenido también está disponible en Español
About

Helga Glaesel de Blanding

Helga is a wife, mother and entrepreneur. She took a professional cooking class at the Guatemalan Culinary Academy (Academia Culinaria de Guatemala) and as a mom, she's into children's nutrition, giving children a role in the kitchen.
This is one clever ingredient!!,
Read More