CHICKPEA AND COCONUT KORMA CURRY WITH PUMP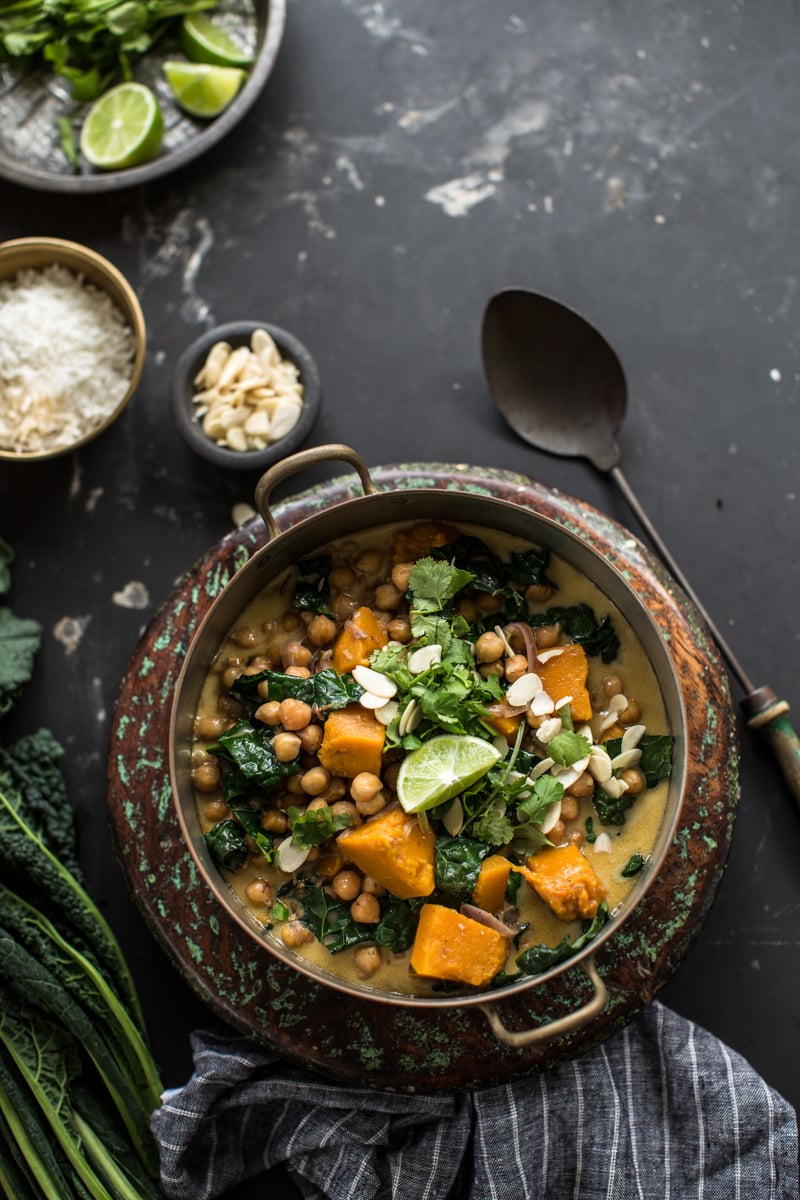 This gentle curry is pure comfort! An amazing mix of spices simmered slowly come together to create a revelation of flavours in your mouth. I love a good korma base. Derived from the Turkish kavurma which quite literally means cooked meat, this meatless recipe is an ode to the fantastic mild creamy  and beige sauce that is the recipe's trademark. The sauce is the star of a korma curry often made from cashew nuts, seeds and cream with a hint of sweetness to balance the spices. In this non-traditional recipe, coconut milk not only gives the curry a luxurious texture and flavour but also the beautiful toasted beige colour. This dish comes together within an hour. The pumpkin is always roasted separately and stirred through just before serving so it is nice and golden and tender but not mushy. Slivered nuts and chopped Tuscan kale adds texture.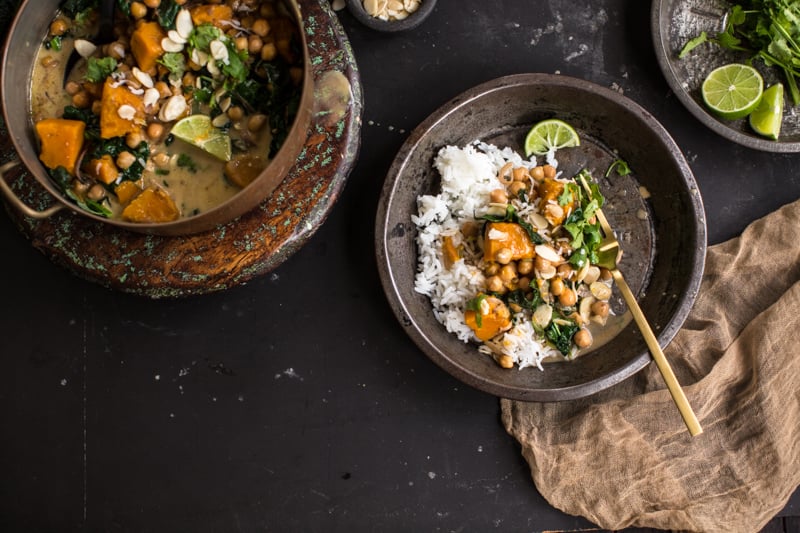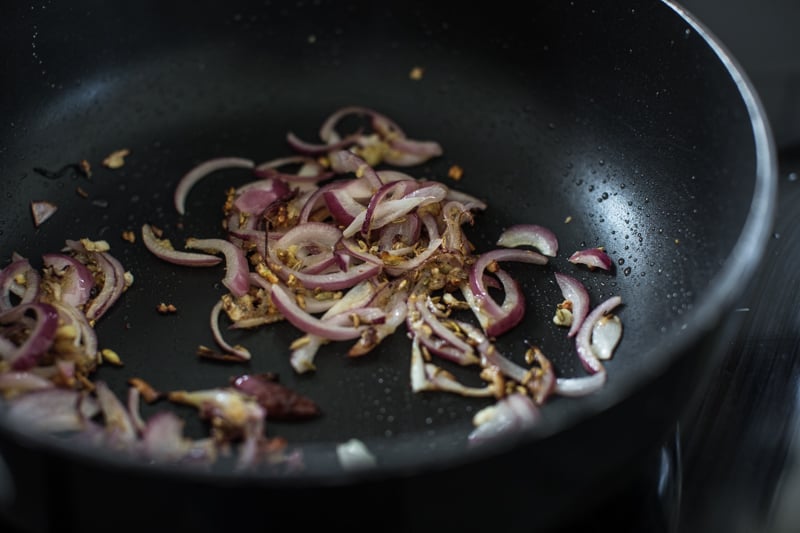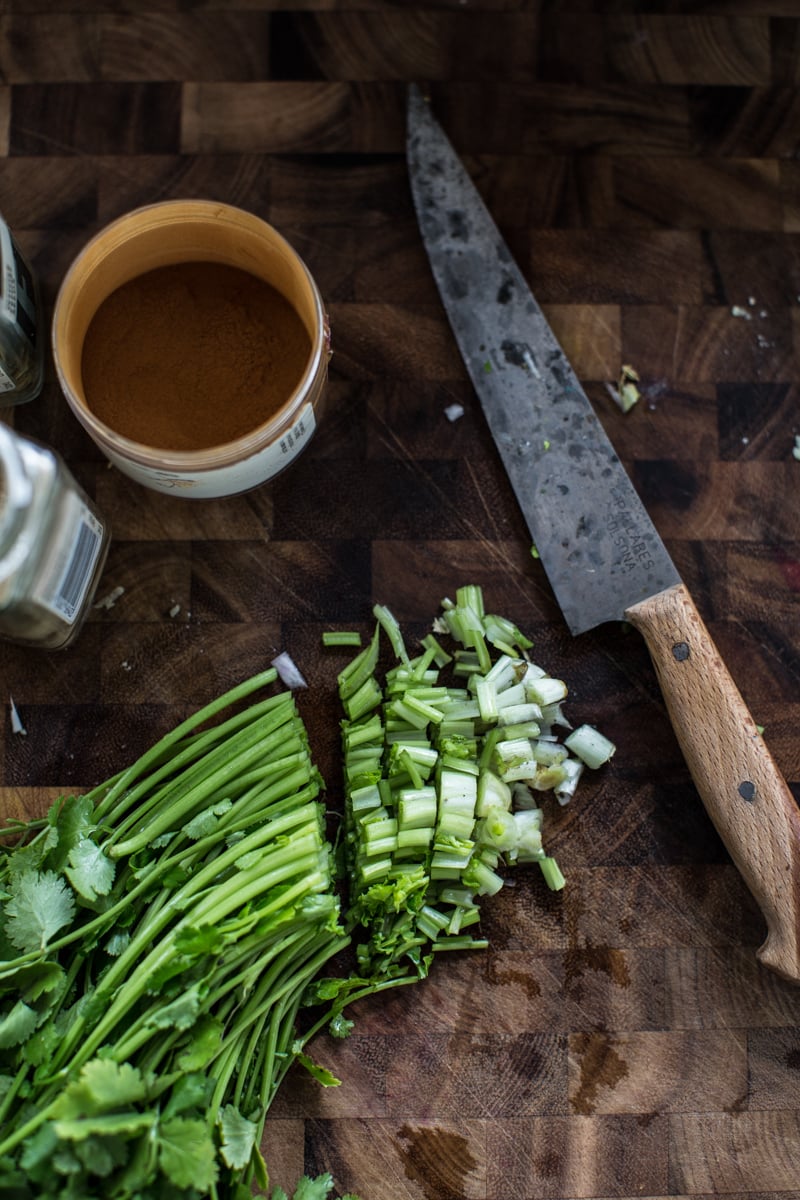 The curry freezes well and tastes even better as leftovers on the next day. I find that assembling the ingredients in the 5 minutes prior to cooking actually makes this seem like a breeze. I often make the sauce in bulk and freeze it in two or four serving portions (a great Sunday project). Then I will bring it out on a night I can't be bothered to cook and simmer it with just some roast veggies or chicken or a combination of paneer and greens. This vegetarian (vegan if you skip the ghee and use coconut oil) curry is a welcome change from the usual curries you might have and is definitely a show stopper! If you cook this and share this online, don't forget to tag me/or #cookrepublic so I don't miss your post. x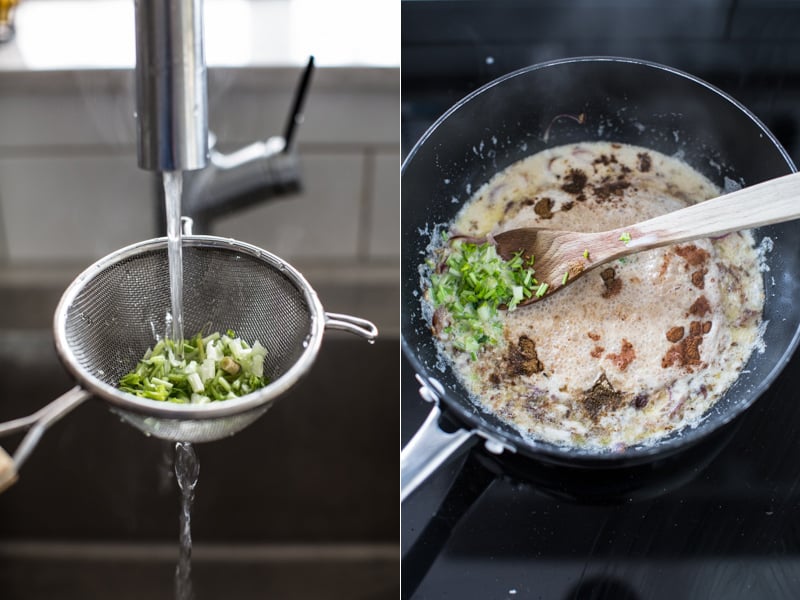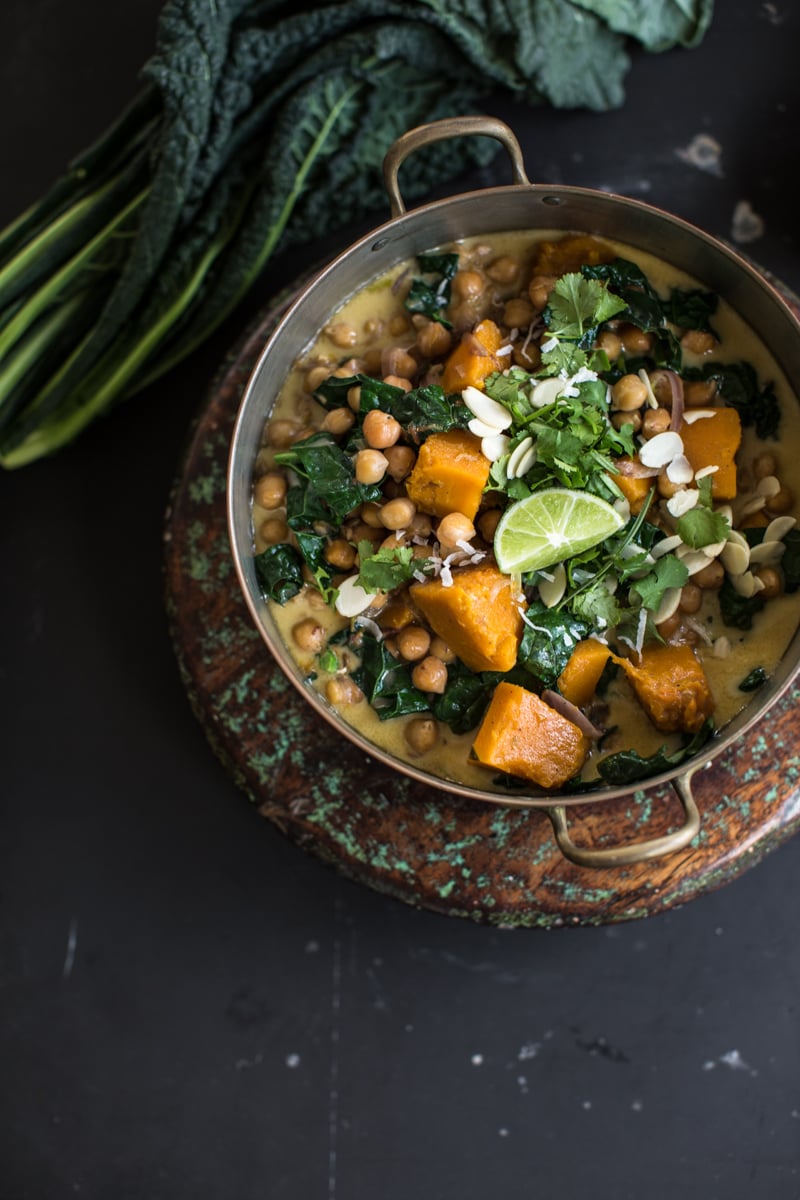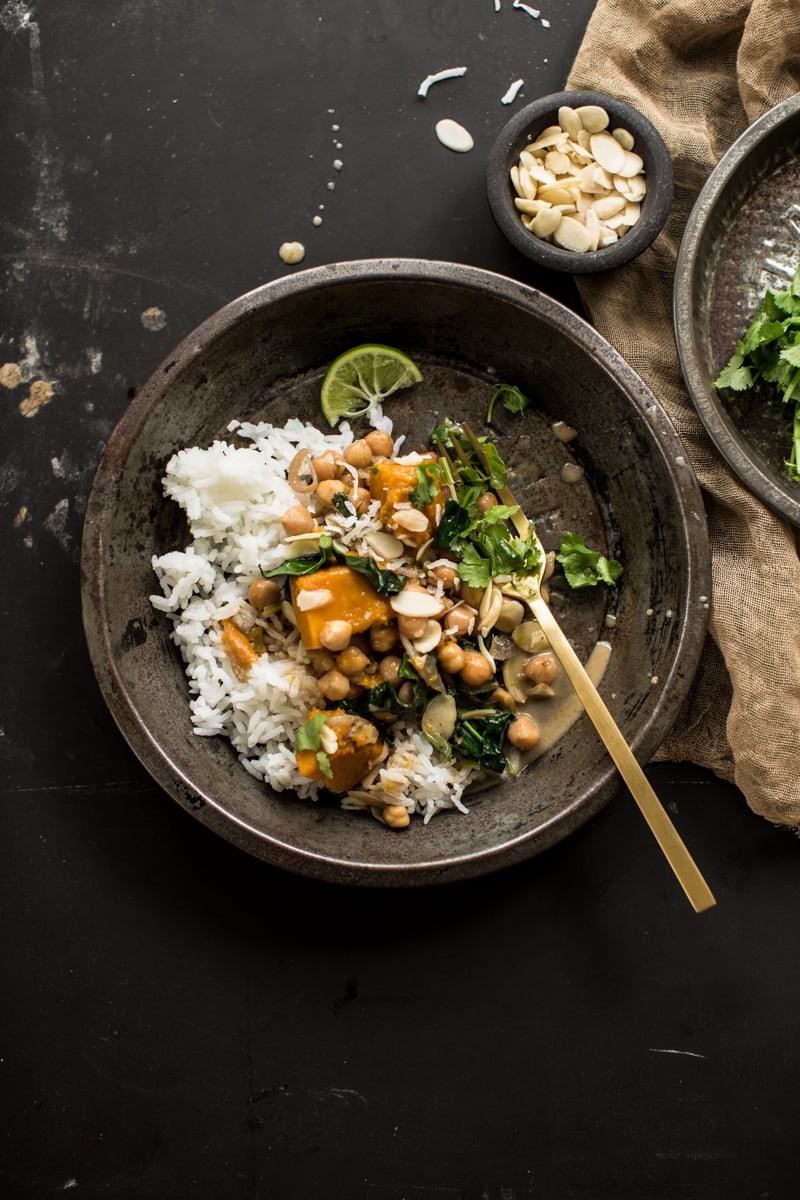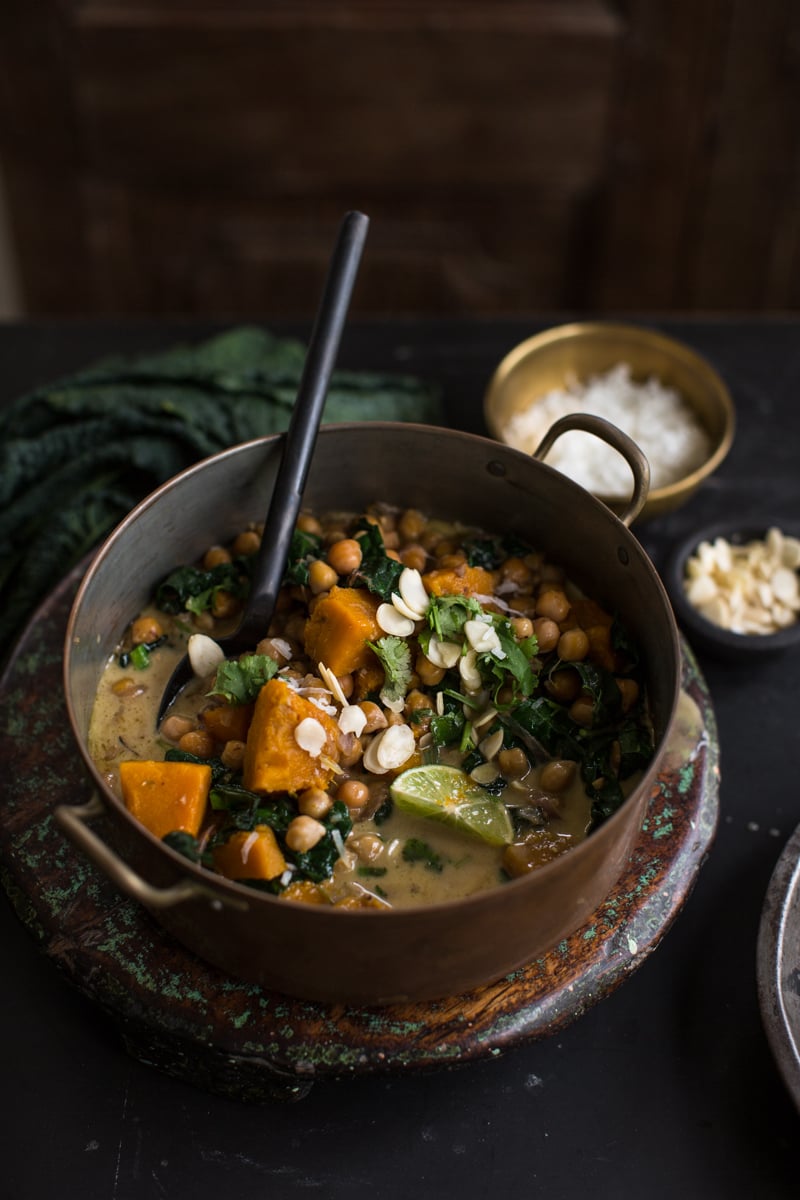 Hungry For More Recipes? Subscribe to my newsletter. Check out Facebook, Instagram and Pinterest to see everything I share! And if you love cooking and new cookbooks, join my free Cooking Club on Facebook!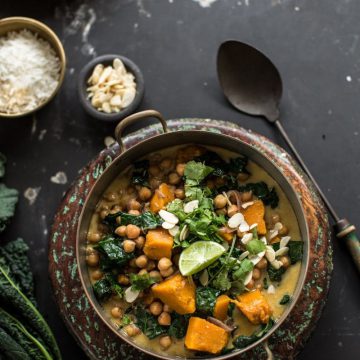 2

cups

(

300

g

)

pumpkin pieces

1

tablespoon

olive oil

salt and black pepper

,

to taste

1

tablespoon

ghee or coconut oil

1

red onion

,

thinly sliced

3

garlic cloves

,

minced

2

tablespoons

grated ginger

2

tablespoons

chopped coriander root

1

teaspoon

fennel seeds

1/2

teaspoon

ground cardamom

1

teaspoon

ground cinnamon

1

teaspoon

garam masala

1

teaspoon

ground cumin

1 1/2

teaspoon

sea salt flakes

1/2

teaspoon

cayenne pepper

1

tablespoon

raw sugar

400

ml

coconut milk

250

ml

veg stock

handful of Tuscan kale leaves

,

chopped

2

X 400g can chickpeas

lime wedges

,

to serve

slivered almonds

,

to serve

fresh coriander leaves

,

to serve

steamed rice

,

to serve
Pre-heat oven to 180°C. Line a baking sheet with baking paper. Place pumpkin pieces, olive oil, salt and pepper in a bowl. Toss to combine. Place pumpkin on prepared sheet and bake in pre-heated oven for approximately 15 minutes until pumpkin is just done. Remove from oven and set aside.

Heat ghee/coconut oil in a large cast-iron pan on high. Add the onion, garlic, ginger, coriander root and fennel seeds. Sauté for a couple of minutes until onion becomes soft. Reduce heat to low. Add spices, salt and sugar. Cook for a few minutes, stirring constantly till the spices are cooked through. Add the coconut milk, veggie stock and chickpeas. Increase heat to medium and simmer for 20 minutes until curry turns a shade darker and becomes really fragrant.

Remove from heat. Stir through the kale leaves and roast pumpkin pieces. Top with slivered almonds, coriander leaves and serve with lime wedges over rice.
Coriander (Cilantro) Root – It is just the actual root of the herb still attached to the bunch of fresh coriander you buy (see picture above). This needs to be washed thoroughly before use as it always has some dirt sticking to it. If your bunch doesn't come with the root attached, just use the stalks which are the main flavour ingredient. If you have neither on hand, a teaspoon of dried ground coriander (from spice section in most supermarkets) will do the trick. Add this when you add the other spices.
I'd love to hear how you went! Tag me on Instagram @cookrepublic
My Recipes, Your Inbox. Sign upE
I be mad for ingredients, because they are astonishing.