Easy Green Curry Asparagus Soup

By: Thomas Published: Updated: 16 Comments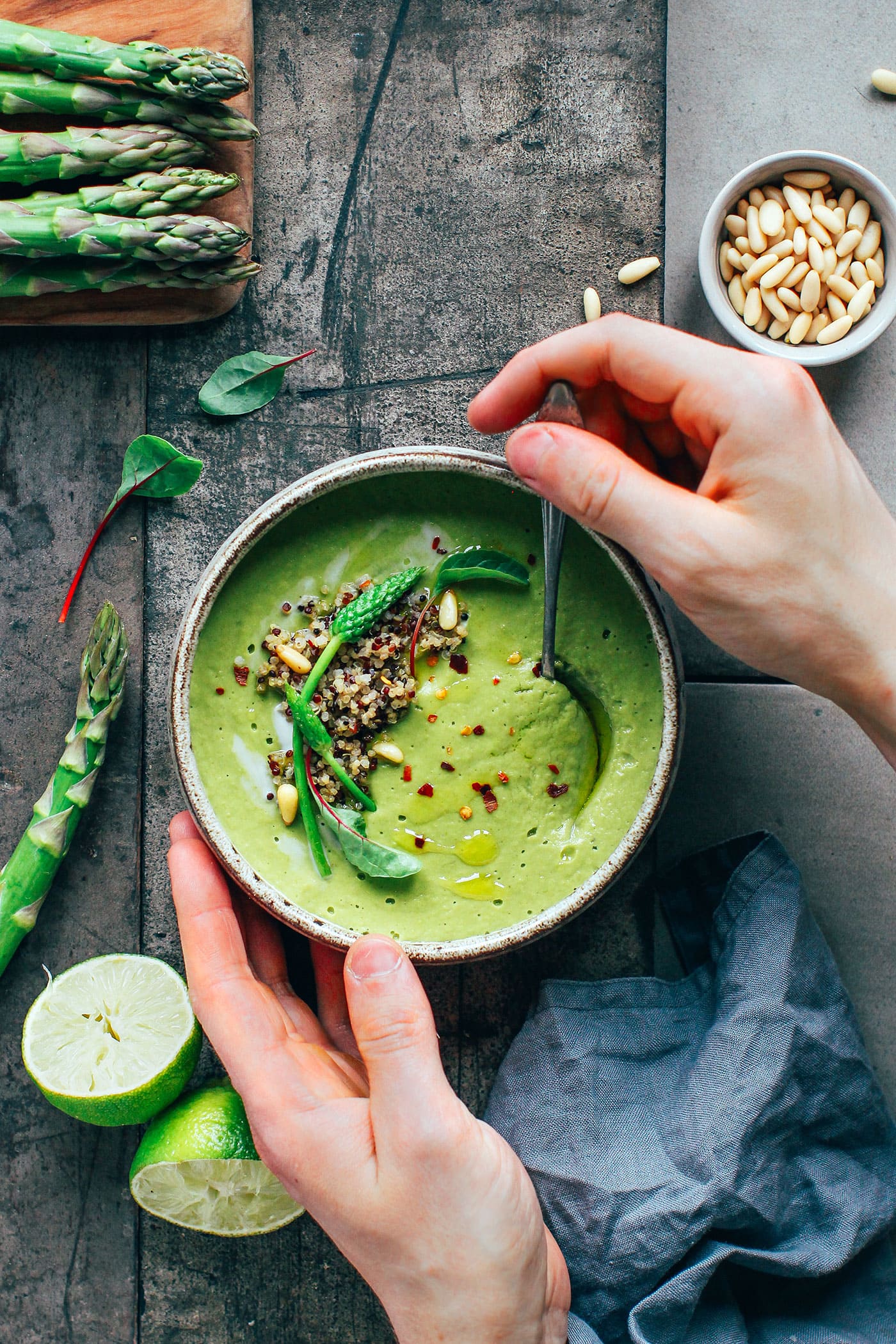 Can you believe there wasn't a single asparagus recipe here?!
Since asparagus season is coming to an end, I thought it was time to use this delicious and nutritious vegetable. And what better way to use them than in a spicy and comforting soup? Because soups are not only to be eaten in the winter, at least in my book.
This green and spicy asparagus soup, or should I say cream, comes together in less than 30 minutes. It's rich, thick, and so creamy! The heat of green chilies hits your taste buds first, then comes the delicate flavor of asparagus, and finally a very subtle coconut flavor. Let's start!
This recipe starts with garlic, shallot, and green curry paste that are cooked until fragrant.
I used only one teaspoon of green curry paste as it's very spicy and flavorful. I made the mistake to use two teaspoons on my first test and it came out so spicy it was impossible to taste the asparagus, so use green curry paste wisely. One teaspoon is just the right amount to me, it adds a deeper flavor and some heat without covering the flavor of the asparagus. If you don't like things spicy I would recommend using only half a teaspoon.
Next, you add the diced green asparagus and sautée for 5 minutes. As with most soups, sauteing the veggies first improves the flavor and brings some sweetness.
To make the soup richer and creamier, we cook the asparagus in full-fat coconut milk for 7-8 minutes, or until soft. Finally, blend everything, adust seasonnings if needed and serve!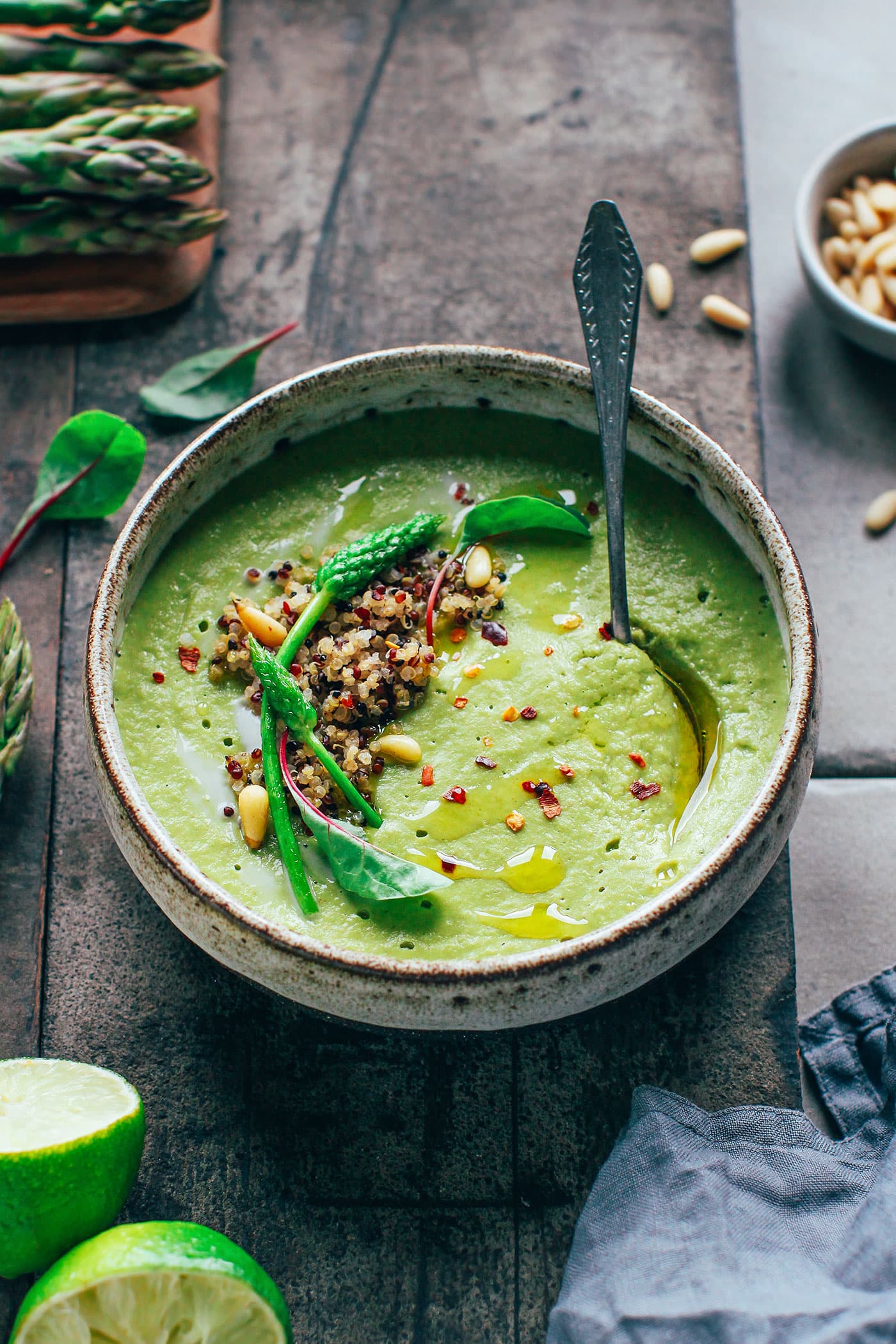 I'm in love with this soup, it's super quick to prepare, packed with flavor, and comforting. You can serve this soup as is, or add your favorite toppings for a more substantial meal. I served it with quinoa, sautéed asparagus, and toasted pine nuts!
Let me know in the comments if you try this recipe!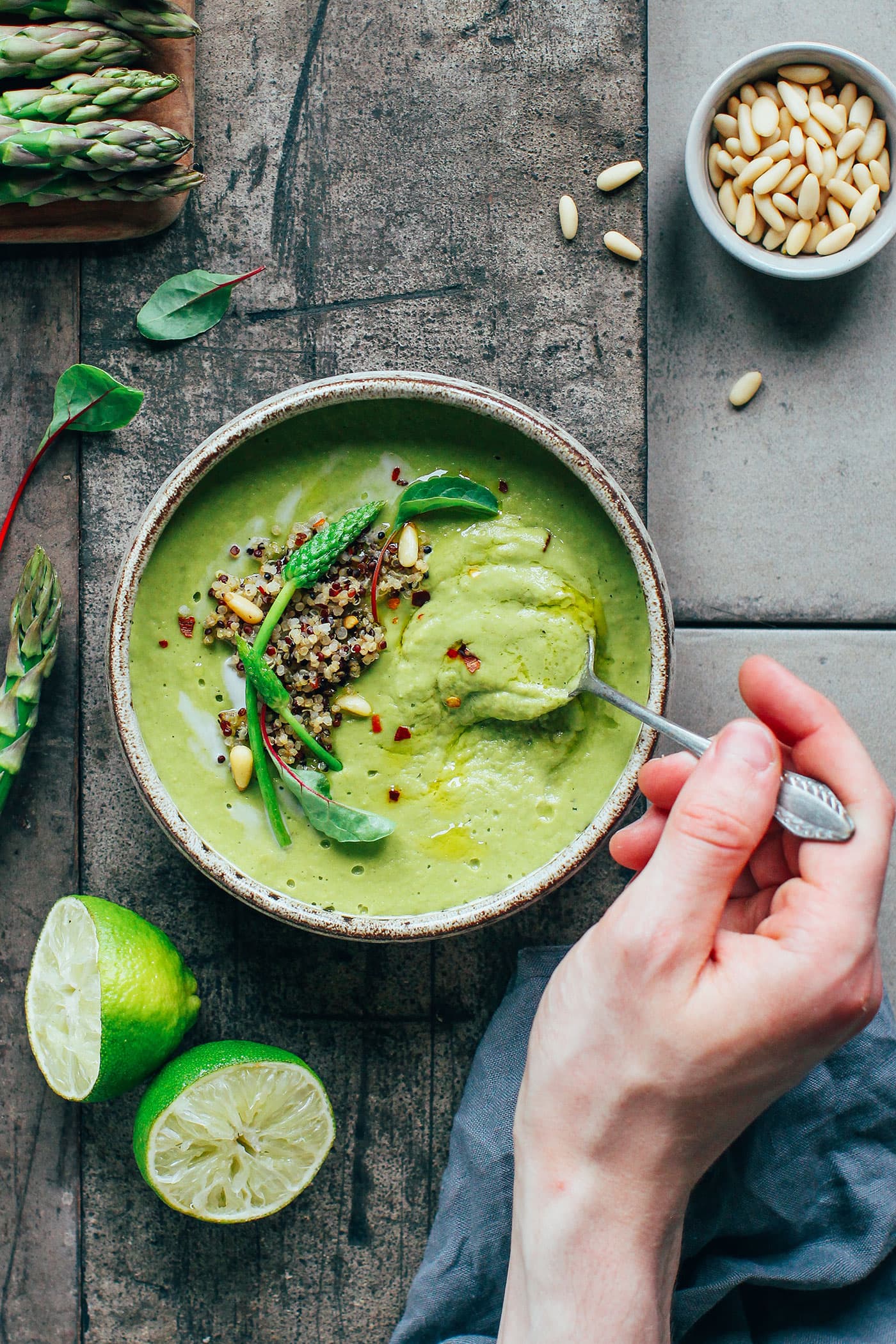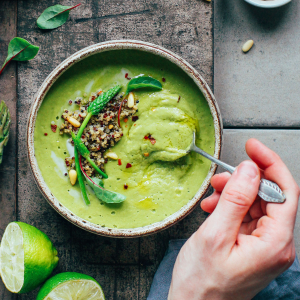 Easy Green Curry Asparagus Soup
Rich and creamy asparagus soup cooked in coconut milk and flavored with green curry paste. Comforting, easy, and ready in less than 30 minutes!
Prep Time : 10 mins
Cook Time : 18 mins
Total Time : 28 mins
Servings 3 servings
Calories 228 kcal
Ingredients  
1

tablespoon

oil

1

shallot

diced

1

clove

of garlic

minced

1

teaspoon

green curry paste

1

pound

raw green asparagus

1 and ½

cup

coconut milk

½

cup

water

½

teaspoon

salt

⅛

teaspoon

ground pepper

1

teaspoon

nutritional yeast
Instructions 
Heat the oil in a large skillet over medium heat. Once hot, add the shallot, garlic, and green curry paste. Cook for 3-5 minutes, or until shallots are soft and golden brown.

In the meantime, dice the asparagus into 1-inch pieces and rinse them under cold water. Add to the skillet and cook for 5 minutes, stirring regularly to prevent sticking.

Pour in the coconut milk, water, salt, and ground pepper. Cover and let simmer over medium heat fo 7-8 minutes, or until the asparagus are soft.

Transfer to a blender, add the nutritional yeast and blend on high speed until smooth and creamy. Taste and adjust salt if needed. Serve hot topped with toasted pine nuts, some quinoa, and optionally some sautéed asparagus.

The soup will keep for up to 3 days in the refrigerator.
Notes
For a lighter soup you can use light coconut milk, be aware the soup won't be as rich and creamy.
Nutrition
Serving: 1 g | Calories: 228 kcal | Carbohydrates: 9.6 g | Protein: 5.4 g | Fat: 21 g | Fiber: 3.6 g | Sugar: 3.2 g
Course : Appetizer, Entree, Main Course
Cuisine : American
DID YOU MAKE THIS RECIPE? Tag @fullofplants on Instagram and hashtag it #fullofplants
Reader Interactions
These WordPress plugins are glamorous!