Easy Pizza Pockets

Easy Pizza Pockets come together in a snap and are totally delicious. Fill them up with your favorite pizza toppings for the perfect game day snack!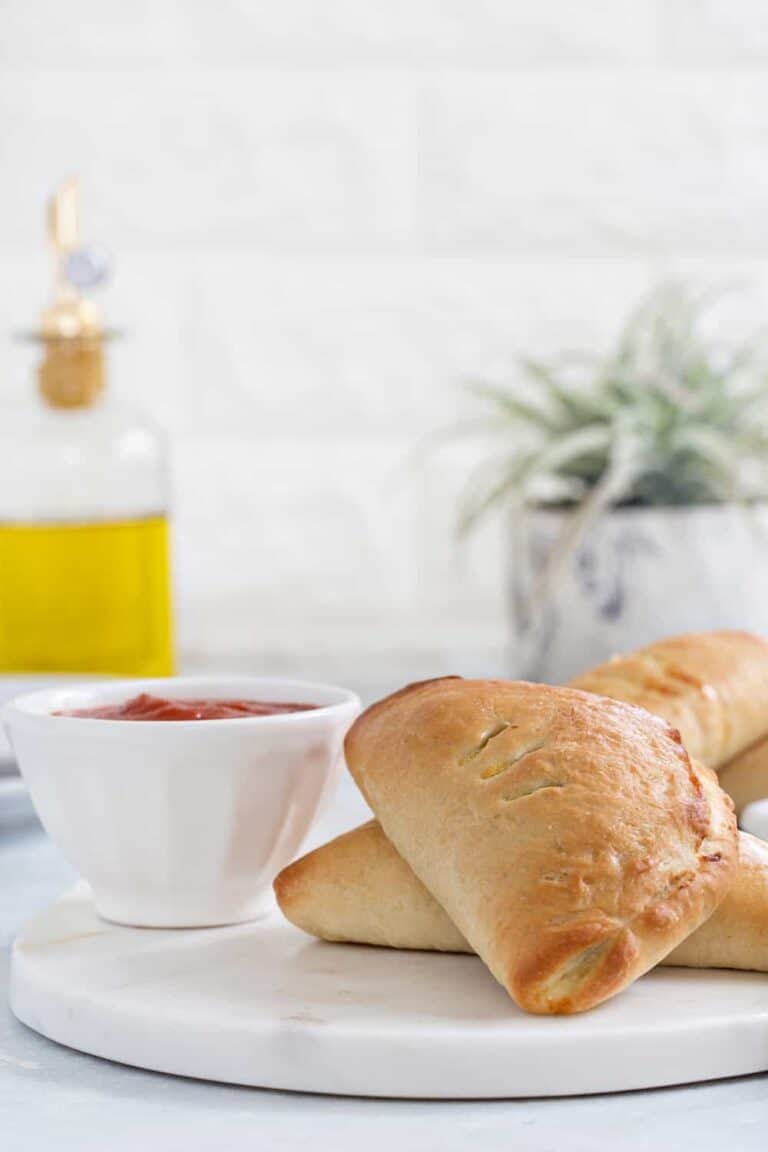 This post is sponsored by Fleischmann's® Yeast as part of the Bake It Yourself Blogger Program. Thank you for continuing to support the brands that make My Baking Addiction possible.
I'm going to be honest with you here, I have no interest in football. Like zero.
All I know is that the Browns went 0-16 and someone organized a Perfect Season Parade in the city. 🙄
I also know that my husband has been shouting things at the television and I don't even bother questioning what all the ruckus is about (yes, I'm 80 and use the word ruckus on the regular) because quite frankly, I just don't care.
Now, game day grub? That's where this girl shines. Because pizza and dips.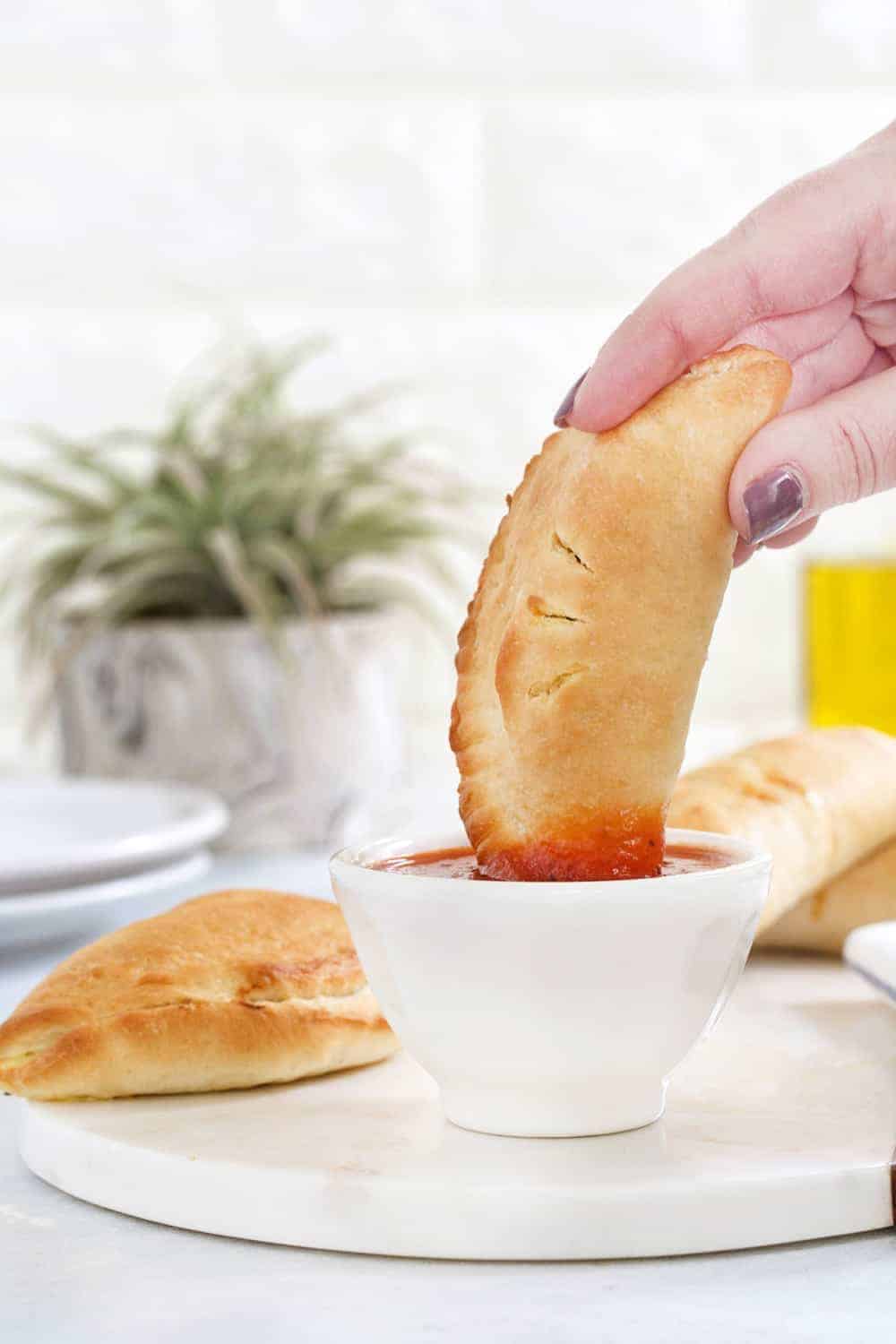 Although I'm no stranger to take-out on game nights, I also love to put together spreads of simple party food that people can snack on all night long.
From Easy Crockpot Pulled Pork and Jalapeño Popper Dip to Cinnamon Sugar Soft Pretzel Bites and Chocolate Bourbon Pecan Bars, I've got the big game menu on lockdown.
But this year, instead of ordering pizza from our favorite local spot, we're going to have ourselves a little pizza making bar so everyone can create their very own easy pizza pockets.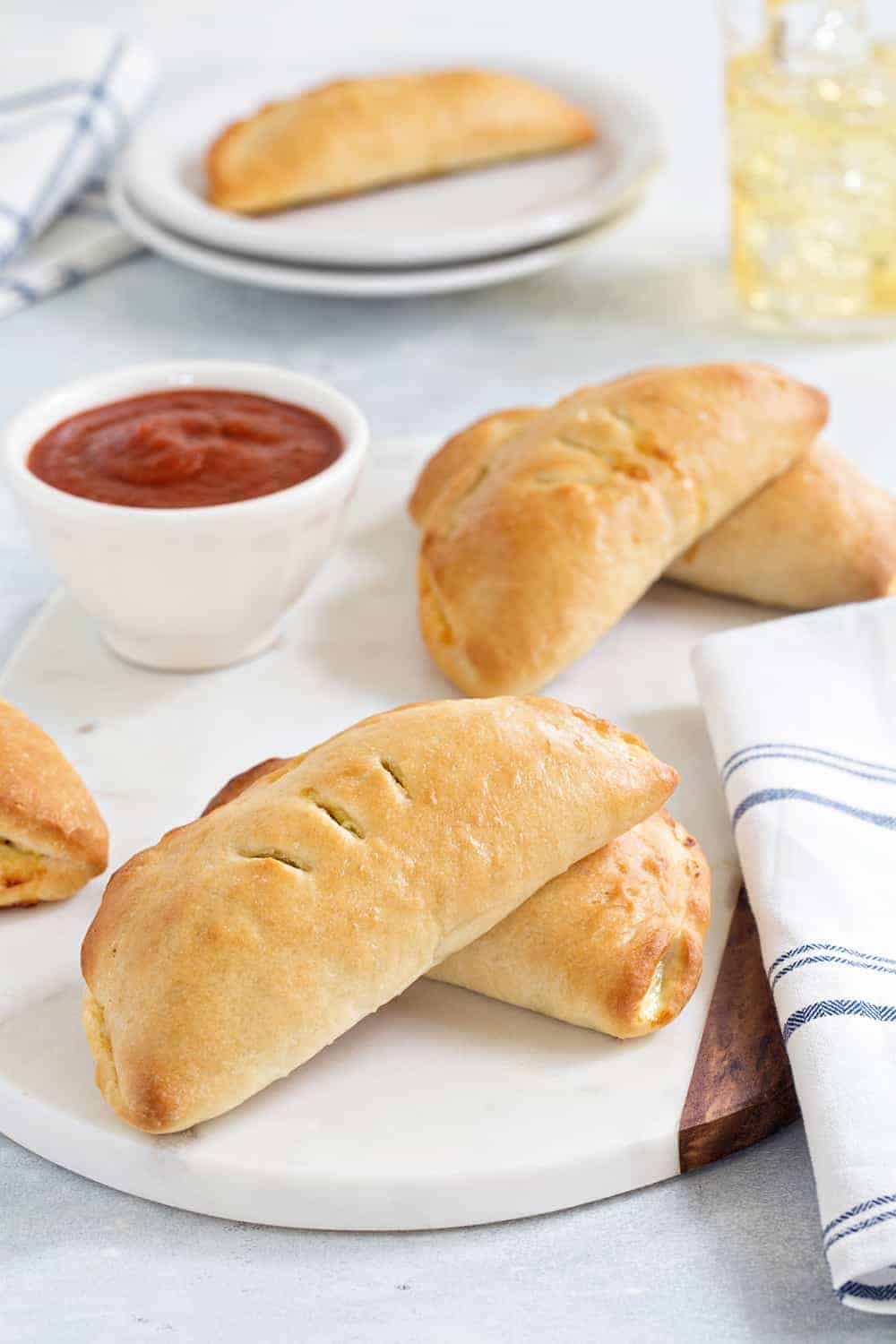 We're a calzone loving family, but we can never agree on the fillings. Some of us love traditional items like pepperoni and cheese (raises hand), while others favor veggies, or all the meats.
Then there's my dad who doesn't like ricotta cheese. How that's possible, I'm not even sure.
Easy pizza pockets for the win!
Everyone can customize their own and my dad doesn't have to spend any time trying to meticulously scrape the ricotta off of his pepperonis.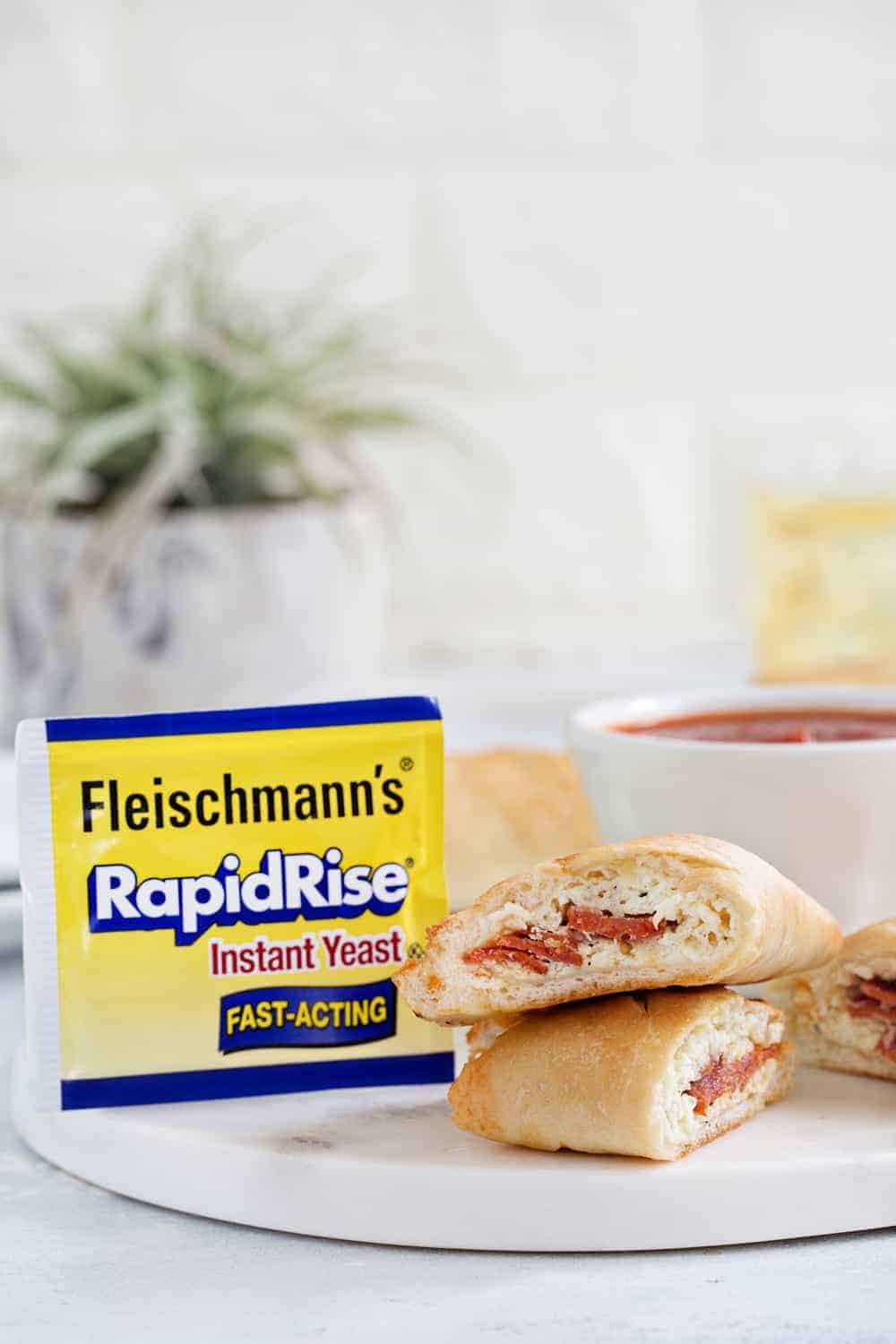 The thing I love about this recipe is that dough calls Fleischmann's® RapidRise™ Yeast, so there's not a lot of rise time if you want to make these on the fly.
However, if you want to make the dough ahead of time, you can totally do that too. Just make the dough according to the recipe, cover it loosely, and pop it into the refrigerator for up to 24 hours.
Come back to it when you're ready to whip up your easy pizza pockets and finish up the recipe. Easy peasy!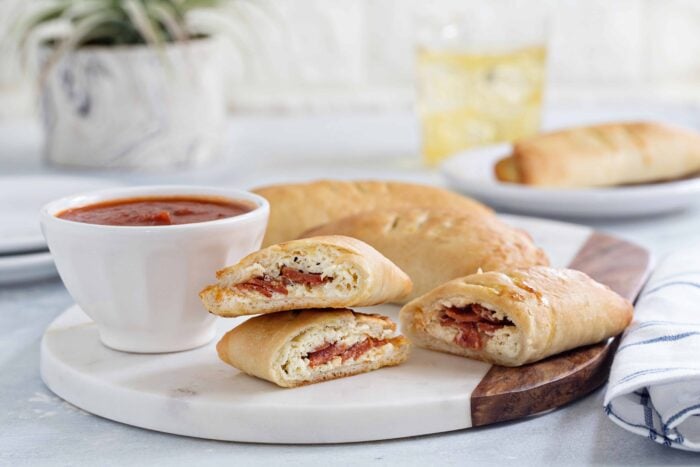 If you're feeling fancy, go for fillings like prosciutto and basil. Or keep it simple with ham and pineapple or mushroom.
Are you Team Pineapple? It's a big bone of contention in our household, and I'd love to know how you feel about it.
Does it work as a Pizza Pocket filling, or not?
Ingredients
For the Crust
1 envelope Fleischmann's® RapidRise Yeast™
1-1/2 to 2 cups all-purpose flour
1 teaspoon sugar
3/4 teaspoon salt
2/3 cup very warm water (120 to 130F)*
1 tablespoon olive oil, plus more for brushing
For the Filling
3/4 cup ricotta cheese
3/4 cup shredded mozzarella cheese
1 egg
1 teaspoon pizza seasoning**
1/4 teaspoon salt
1/4 teaspoon black pepper
24 pepperoni slices
4 slices bacon, cooked
pizza sauce for dipping
Instructions
Preheat oven to 375°F. Line a baking sheet with parchment paper.
Combine 1 cup flour, undissolved yeast, sugar and salt in a large bowl.
Add very warm water and oil; mix until well blended, about 1 minute. Gradually add enough remaining flour to make a soft dough. Dough should form a ball and will be slightly sticky.
Knead on a floured surface, adding additional flour if necessary, until smooth and elastic, about 4 minutes. Cover and let rest on floured surface while preparing filling.
Combine ricotta, mozzarella cheese and egg in a mixing bowl. Stir in pizza seasoning, salt and pepper, set aside.
To make the pockets, divide dough into 8 portions. Roll 1 portion into a 6-inch circle on a floured surface. Spread one eighth of the ricotta mixture on the bottom half of dough, leaving a 1/2-inch free of filling. Top with 3 slices of pepperoni and 1/2 piece crumbled bacon. Fold top half of dough over filling. Pull edge of lower crust over top and seal. Carefully transfer to prepared baking sheet. Brush with olive oil and cut 2 to 3 vents in top. Repeat with remaining dough.
Bake for 15 to 17 minutes until lightly browned. Transfer to cooling rack to keep bottom crust crisp. Serve with pizza sauce for dipping.
Notes
If you don't have a thermometer, water should feel very warm to the touch.
If you don't have pizza seasoning, Italian seasoning will work just fine.
TIP: To knead the dough, add just enough flour to the dough and your hands to keep the dough from sticking. Flatten dough and fold it toward you. Using the heels of your hands, push the dough away with a rolling motion. Rotate dough a quarter turn and repeat the "fold, push and turn" steps. Keep kneading dough until it is smooth and elastic. Use a little more flour if dough becomes too sticky, always working the flour into the ball of the dough.
This is one astonishing item!!,
Read More