Homemade Turkey Breakfast Sausage

This post may contain affiliate links. Please read my disclosure.
I participated in an Influencer Activation on behalf of Influence Central for Honeysuckle White. I received complimentary products to facilitate my review as well as a promotional item to thank me for my participation.
Turn busy nights into breakfast-for-supper-nights with an easy Turkey Breakfast Sausage Sandwich.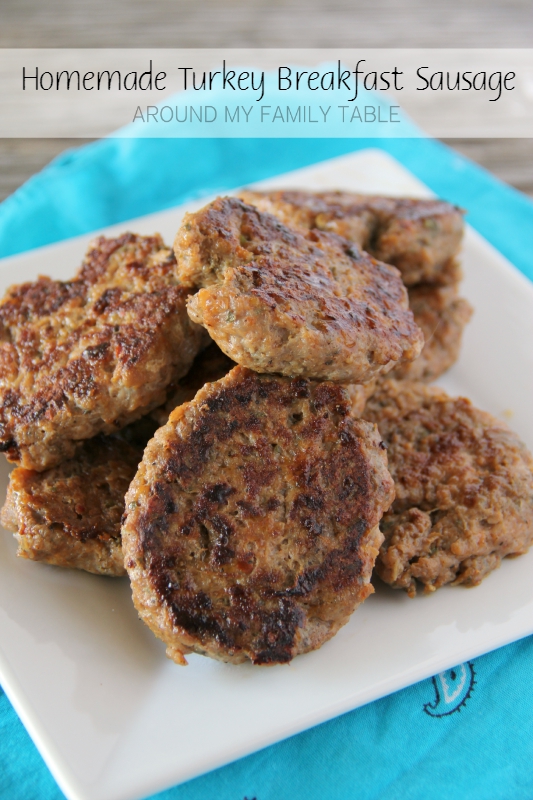 I'm always looking for delicious and creative suppers for my family and the one thing that is always requested is breakfast for supper! I'm not sure why it's always at the top of my kids list, but it is. To make things a little healthier, I decided to turn my package of Mild Italian Ground Turkey into a breakfast-y sausage to use as sandwiches. This was the best idea I've had in a really long time!!! You get that hint of breakfast flavors all wrapped up in a delicious turkey sausage patty! I added them to mini buns with a fried egg for the kids. I've loved cooking with turkey for years. Turkey is a great,  lean substitution for recipes traditionally made with beef or pork such as sausages and burgers.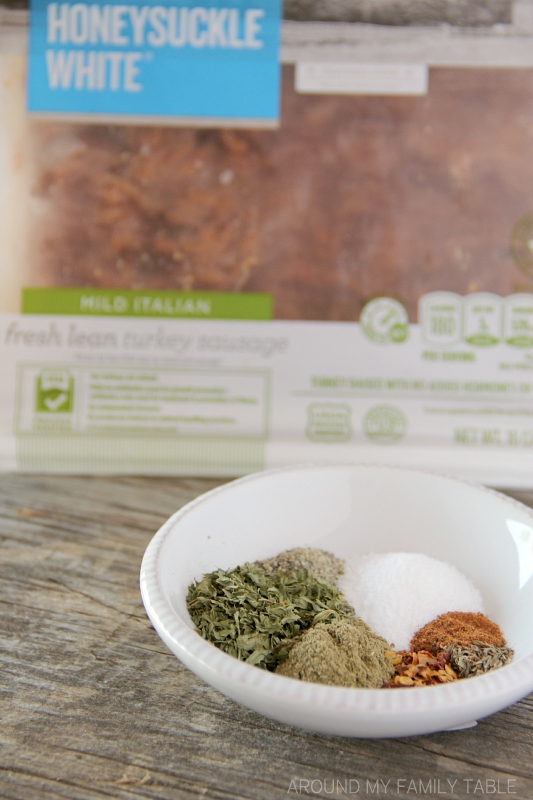 The other bonus is that you can use leftovers for quick and easy school breakfasts the next day.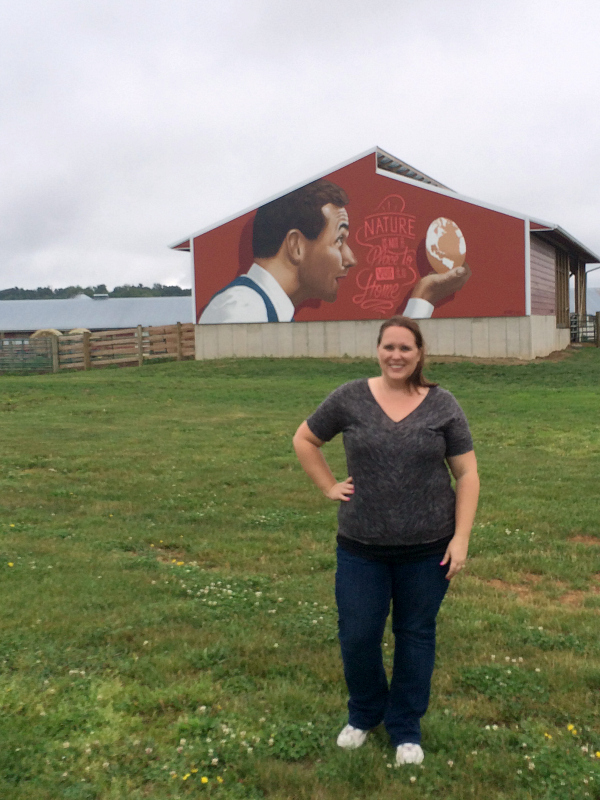 I loved my time spent on one of the 700 family-owned farms and the home of Craig and Nancy Miller. They were so kind and let us sit around their family table to talk turkey. Read more about my time on the Miller's farm and check out my scrumptious Giant Fair-Style Turkey Legs from the grill using Honeysuckle White turkey legs…they are just like the fair! Isn't that the most beautiful barn, it was painted all with spray paint and was a gift to the Miller's from Honeysuckle White/Shady Brook Farms. Honeysuckle White turkeys are raised without growth-promoting antibiotics which makes their ground turkey, sausage, tenderloins, burgers and more so delicious. Honeysuckle White is committed to offering better food at a better price, that's why their turkeys raised without growth-promoting antibiotics are available without a premium price.
Honeysuckle is truly one of my favorite brands and I haven't met one of their products that I don't absolutely love. They have pretty much everything you could want from links, to sausage, to legs, to breasts, to whole birds. FYI…get your Thanksgiving bird now….keep reading for giveaway where 2 readers will get a little goodie (each will get a $10 coupon to buy some turkey).
Don't let cooking the bone-in breast scare you whether it's for an easy weeknight supper or big holiday meal, use these tips to help:
Don't let the bone intimidate you – look at it as a free bouillon packet to add flavor
Cook your turkey slowly for the best taste and tenderness
Use big, bright flavors
Our turkey loves balanced elements such as fresh citrus and acidic ingredients
Make sure to remove the skin from the bone-in breast after cooking
Always cook turkey to an internal temperature of 165 degrees Fahrenheit.
Following those simple tips will ensure a delicious turkey supper!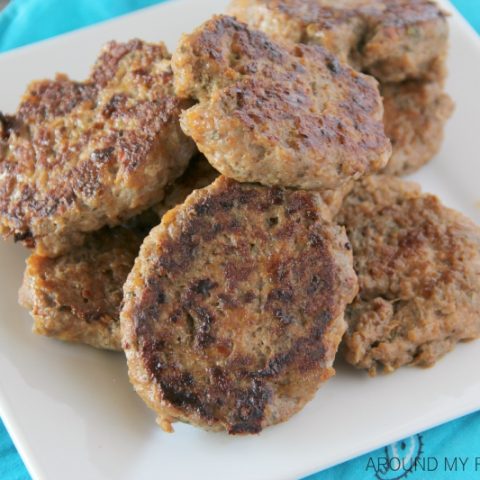 Homemade Turkey Breakfast Sausage
Yield:
8
Prep Time:
15 minutes
Cook Time:
10 minutes
Total Time:
25 minutes
This homemade turkey breakfast sausage is great for meal prep! These sausage patties are much healthier than store-bought breakfast sausage.
Ingredients
1 lb Mild Italian Sausage (We use Honeysuckle White)
1 1/2 tsps ground sage
1 1/2 tsps dried parsley flakes
1 tsp kosher salt
1/2 tsp thyme
1/2 tsp black pepper
1/4 tsp ground nutmeg
1/8 tsp crushed red pepper
For Breakfast Sandwiches:
4 Mini Burger Rolls
4 Fried Eggs
Instructions
In a medium bowl combine turkey and spices. Mix well with hand to incorporate the seasonings throughout the meat. Shape and roll into a log and place in the freezer for 10 minutes to set up.
Remove from freezer and gently slice into 8 even rounds. In a large skillet, cook patties over medium high for about 5 minutes on each side or until cooked through and golden brown.
Heat buns in microwave for 20 seconds, top with a sausage patty, a fried egg, and finally the top bun.
It's the perfect breakfast for supper!
Notes
Nutritional information shown is just for the patties, not the sandwiches.
Nutrition Information:
Yield: 8
Serving Size: 1 patty
Amount Per Serving:
Calories: 197Total Fat: 16gSaturated Fat: 6gTrans Fat: 0gUnsaturated Fat: 12gCholesterol: 32mgSodium: 712mgCarbohydrates: 3gFiber: 0gSugar: 1gProtein: 11g
Did you make this recipe?
Share and Tag @MyFamilyTable on Instagram…I'd love to see it. Or leave a comment!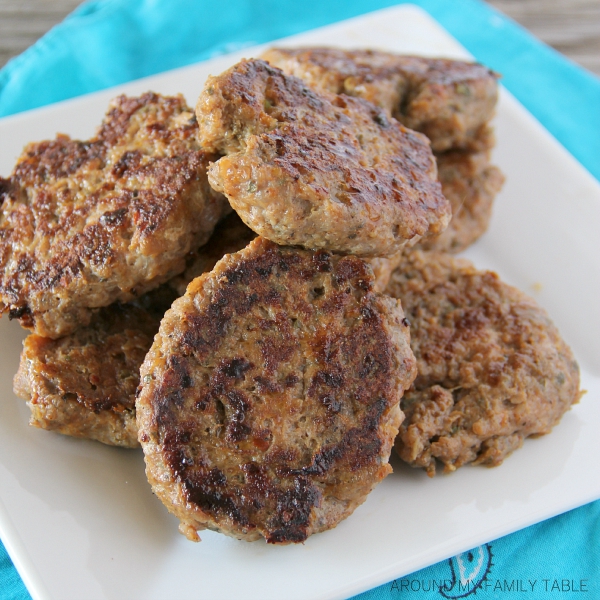 For more recipes and information check out the Honeysuckle White Facebook page.
Honeysuckle White turkey products are only available in select states. For those on the East Coast (ME, NH, VT, NY, NJ, MA, VA, RI, CT, PA, MD, DE, WV, NC, SC, GA, and FL), look forHoneysuckle White's sister brand, Shady Brook Farms!
Disclaimer: I participated in an Influencer Activation on behalf of Influence Central for Honeysuckle White. I received complimentary products to facilitate my review as well as a promotional item to thank me for my participation.
These add-ons are helpful!