"More fish please," says nobody at our house, EVER-until now


"Whoa. This is actually good," my husband said after taking a bite of the fish that I had prepared earlier that evening for supper. "This fish is really good, honey."
My husband is not a fish kind of a guy. My kiddos aren't crazy about fish, either. Generally when I make fish, I end up eating most of it, in the form of leftovers over the next few days. I've tried so many different recipes.  I really like fish. I've broiled it with lemons and onions and herbs.  I've steamed it in parchment.  I like it all, but I stand alone in my fish devotion.
Until. Now.
When Bryan came in the door the night of the Amazing Fish, he was tired and wan. He had had a sketchy lunch and had skipped dinner, hoping for decent leftovers at home, instead. (Generally, ahem, there are decent leftovers.)
"What did you guys have for supper?" he asked, when he came in the door.  (After my kiss, of course.  First things first.)
"Fish!" I said.  "And there's lots left.  Want me to get you some?"
He blanched.  He started hedging. He sagged.  He didn't try to hide his disappointment.  "Ah–fish?  That's okay.  Maybe I'll just have a sandwich," he said.
"We're out of bread," I said.  "Try the fish, honey. It's delicious. Really."  He regarded me with a gimlet eye.  He didn't say it, but I know what he was thinking.  "The phrase 'delicious fish' is an oxymoron, right?"  He was smart kind enough not to say what he was thinking, and hungry enough to give it a try.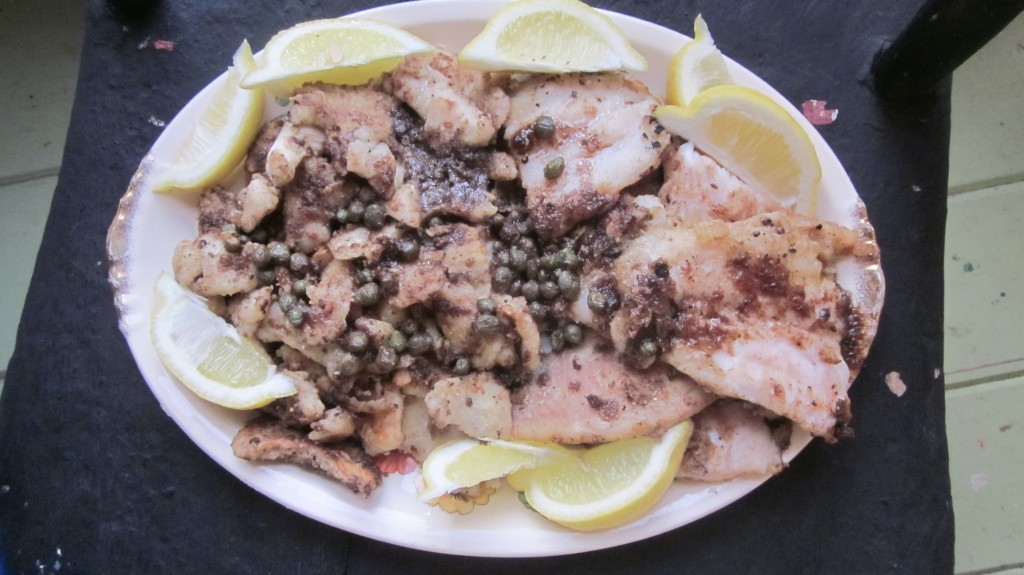 Truth is, I'm on a mission to clean out our freezers before summertime, so I'll have plenty of space for the lovely things that I plan to grow and to gather and to blanche and freeze and dehydrate and what not.  I had found a little packet of fish, carefully squirreled away in the freezer from our fishing trip last spring, which we went on to celebrate little Mack's 6th birthday.  (And I know you're not supposed to store things that long, but it was very tightly wrapped and still looked good and I was not going to throw away those treasured little filets!)  Also I found three different types of fish–all carefully shrink-wrapped–so all together, I had plenty of fish to cook for dinner.  Although I knew that by cooking that much, I (and only I) would be eating it for a week.
Because, as I've explained, my family are not fish people.  Basically–they're awful fun to catch but eating them?  Not so much. But.  We're already planning this year's birthday fishing trip for little Mack, so I knew it was time to cook–and hopefully eat–those little filets.
I didn't have much time, but I wanted a new, fast recipe, so I grabbed my Bittman cookbook.  Do you have it?  If not, you ought to get it.  The title of the cookbook is How to Cook Everything:  Simple Recipes for Great Food and that title is a great indication of what is inside. I really love this cookbook.  Mark Bittman does a great job of teaching the home cook how to cook everything in a simple, straightforward way. Everything.  Even fish.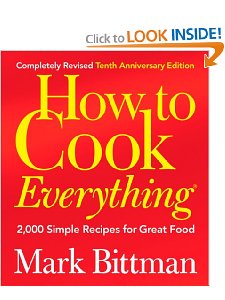 Part of the deal might be that we live in Nebraska, and fresh fish (unless we catch it ourselves) is not easy to find.  One must drive into The City and go to an exclusive little shop where the fish is shipped in, fresh, from the coastal areas and you trade your first-born for it.  I've just never been that desperate for fish.  I like my firstborn.  Enormously.  Plus, he moved away.
I buy it frozen, and then try one after another way to cook it so my family will eat it.  Fish tacos?  Good, mom, just don't make them again.  Broiled with lemon and onion?  Ah–I snacked too much this afternoon, Mom, I'm just not hungry . . . sigh.
Enter Mark Bittman's recipe (which I tweaked a bit, natch) and a pile of assorted fillets, and you have fish that the entire family loved.  Here's another photo to tease you further.  A close-up.  You can nearly taste the goodness, can you not?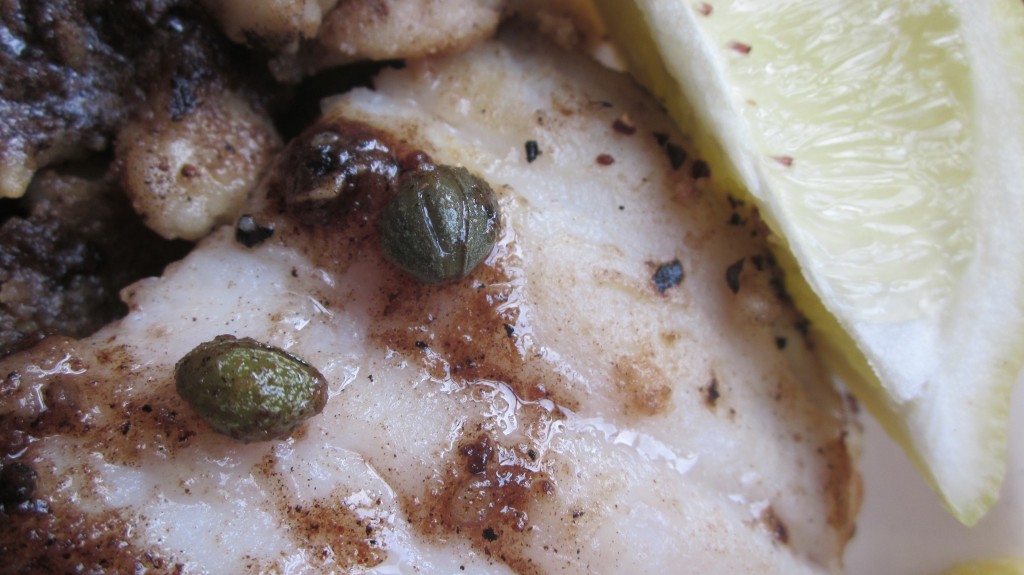 Okay.  So here's the recipe.  Get this.  These are all the ingredients you need to have to make this delicious dish:  Fish. Salt and pepper and olive oil and flour and butter.  Lemon Juice.  Lemon wedges.  Capers.  That's it.  Get this.  This is all the time you'll need to make this fish:  20 minutes.  Yes.  So strap on your apron, Gentle Reader, gather your ingredients (if you need to send somebody to the store for a little jar of capers, do it!) and let's cook fish!
"More fish please," says nobody at our house, EVER–until now
Recipe Type: fish
Author: Amy from vomitingchicken.com, adapted from Mark Bittman
Prep time:
Cook time:
Total time:
Serves: 6
Make lots of this, because everybody's going to want seconds! I served this fish with a large steaming bowl of rice and a fresh green salad, although everybody was just interested in the fish.
About 1 pound fillets of flounder, crappie, or any thin white fillets, scaled or skinned.
Salt and freshly ground pepper to taste
2 Tablespoons extra-virgin olive oil
1 stick butter
Flour for dredging
1/4 freshly squeezed lemon juice
Minced fresh parsley leaves for garnish (optional)
Lemon wedges
2 Tablespoons capers
Heat a large skillet over med-high heat for 2-3 minutes. Add oil and half the butter.
Dredge the fillets in the flour, shaking off excess, and add them to the pan.
Cook the fillets on med-high and cook until golden on each side, 4 to 5 minutes total. Remove to warm serving plates.
Add capers to the skillet with the lemon juice and cook, stirring, for 30 seconds, and then pour over the fillets. Serve with lemon wedges and parsley. Eat!
---
This is another fancy module!