Moroccan Carrot Salad

Wednesday, August 5th, 2009
RECIPE: Moroccan Carrot Salad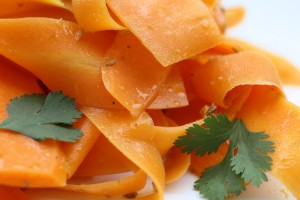 Kitchen Caravan recorded my first ever cooking shows, and now they've allowed me to contribute a recipe to their Moroccan collection this month. Meme has always made a traditional Moroccan carrot salad for big family dinners, where thick copper penny slices of carrot are boiled and then tossed with ground cumin, salt, and lemon juice. It's delicious. But, I wanted to give it a bit of a facelift. So, I created ribbons of carrot and just blanched them until still crisp, but not raw, and created a vinaigrette with whole cumin seeds and citrus and honey. Whole cilantro leaves finish it off. It's refreshing and light, but exotic. I hope you try it! Here's the link to the recipe.
Moroccan Carrot Salad
serves 4 to 6
10 medium carrots, stripped into ribbons with a vegetable peeler
1 tablespoon cumin seeds, toasted for 20 seconds in a hot dry pan
Juice of 1 lemon
¼ cup extra virgin olive oil
¾ teaspoon honey
Salt and pepper
Cilantro to taste
Use a Y-peeler to strip an already peeled and trimmed carrot again and again into thin ribbons.
Bring a large pot of water to a boil, and salt it. Blanch the carrots ribbons for 45 seconds, then drain, and set aside.
Quickly whiz together the cumin vinaigrette by combining the cumin seeds, lemon juice, olive oil, honey, and salt and pepper in the blender. Blend until the dressing emulsifies and the cumin seeds are broken up into shards.
Toss the warm, dry carrots ribbons lightly with as much vinaigrette as needed. Place in whole cilantro leaves to taste.
print this recipe
This is one astonishing add-on.