PBfit Burger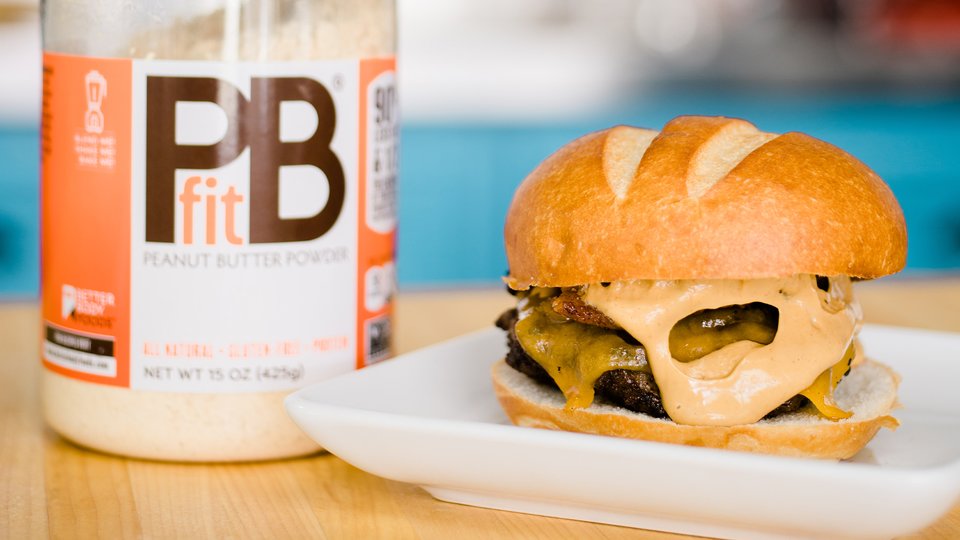 Just when you thought you knew every peanut-butter trick in the book, this burger comes along. Peanut butter can work in either sweet or savory dishes, and this delicious version of a classic proves it. Seasoned with salt and pepper and topped with rich, smoky bacon and cheddar cheese, these peanut butter burgers are an easy, mouth-watering addition to any backyard barbecue. You'll never look at a burger the same way again!
Ingredients

1
whole

egg

1
tbsp

table salt

1
tbsp, ground

pepper

1
lb

ground beef

8
oz

applewood smoked bacon

3
serving

whole-wheat hamburger buns

3
slice (1 oz)

low-fat cheddar cheese

1½
serving (2 tbsp)

PBfit peanut butter

2
tbsp

water
Directions
Preheat the grill.
Whisk together the egg, salt, and pepper in a medium bowl. Add the ground beef and mix with your hands to combine the ingredients gently. Form into 3 patties.
In a large skillet, cook the bacon strips on medium-high heat until crispy.
Place the patties on the preheated grill. Cover and cook for 6-8 minutes per side or to the desired doneness.
Remove the cooked burgers from the heat and let them rest 3-5 minutes.
While the burgers are resting, lightly toast the buns and then turn off the grill.
Whisk the PBfit and water together in a small bowl.
For each bun, dress each side with the PBfit mixture, and place a slice of cheese on the bottom bun. Place a cooked burger on top of the cheese and top with 1/3 of the cooked bacon. Add any desired condiments such as lettuce, onion, tomatoes, or pickles.
I be wild about constituents, because they are smart!