pretzel snack mix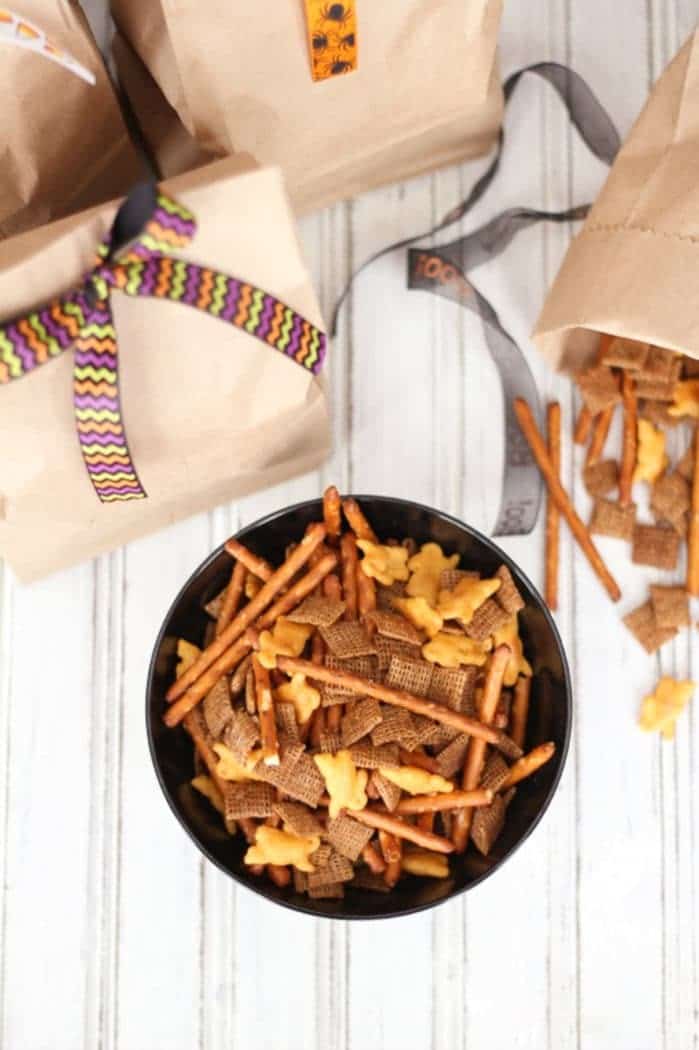 I'm a closet snacker…well maybe not so much in the closet really, especially since I just announced that to the whole world wide web, haha, but yes, I am in fact a snacker. I like to eat, a small amount, often, which equates to a whole lotta snacking' goin' on!
I'm not a junk food snacker though. I mean, I do crave my fair share of junk, primarily baked goods (bet you saw that one coming), but during the day I just eat yogurt, a nibble of fruit here, a hand full of nuts there, and maybe, just maybe, I'll make a PB&J. I pretty much eat something every hour or two!
So it should come as no surprise that I also love snack mix, sweet or savory, I like it all. There's just something great about a yummy snack you can grab and go! (although I tend to keep grabbing over and over again when this is left out!)
This here is one of my favorite recipes. It's a great "base" because it's full of flavor by itself, but it also provides the perfect background if you want to throw in some extras (raisins, nuts, or seeds) or sweeten it up (chocolate!)! Every time I make this, someone asks me what it is! And it' the perfect filler for these crafty little treat bags!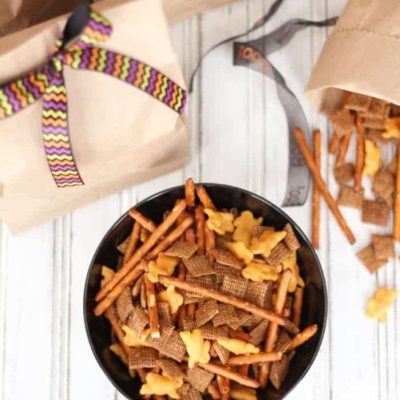 6

cups

whole wheat Chex cereal

2

cups

whole grain pretzels

2

cups

Cheddar Bunnies

1/2

cup

butter

4

TBS

Worcestershire sauce

1

tsp

sea salt

1

tsp

garlic powder

1

tsp

onion powder
Preheat oven to 250 degrees.

Pour dry ingredients into a roasting pan and mix well.

Melt the butter in a sauce pan over medium heat. Once melted, stir in spices and salt and stir until dissolved.

Drizzle butter over dry ingredients and toss well until evenly coated.

Bake for 45-60 minutes, stirring halfway through.
Serving: 1 serving | Calories: 266kcal | Carbohydrates: 51g | Protein: 7g | Fat: 6g | Saturated Fat: 2g | Polyunsaturated Fat: 1g | Monounsaturated Fat: 1g | Trans Fat: 0.1g | Cholesterol: 13mg | Sodium: 511mg | Potassium: 202mg | Fiber: 7g | Sugar: 5g | Vitamin A: 562IU | Vitamin C: 6mg | Calcium: 119mg | Iron: 14mg
About Kristine
Kristine is a self-taught cookie baker and photographer. She's passionate about finding time for everything and making baking, crafting and homemaking simple. More…
These components are adorable.