Raw Vegan Broccoli & Cheese Soup

Posts may include affiliate links. We receive a small compensation for your purchase at no additional cost to you. For more information, visit our Affiliate Disclosure.
I love cheesy things, and by being vegan I have to get very creative with creating cheesy flavors without them being too over the top. Broccoli and cheese soup was an all-time favorite for me growing up. Unfortunately, it either came from a box or a can. The canned-shaped globs that would plop into the soup pan weren't very appetizing to me. I always preferred fresh soups over canned as a kid. Even then I could taste the difference in quality.
Since the shift to veganism, I'm sad to say that it has taken me so long to create my own version of the all-time classic, but I'm happy that it's finally here. I knew I could make something that was far more healthy than the jello-like globs of canned soup I grew up on, and I did! This recipe is something that I am proud to put in my body and tastes quite great, I must say. It's healthy comfort food at its finest! Perfect for this time of year.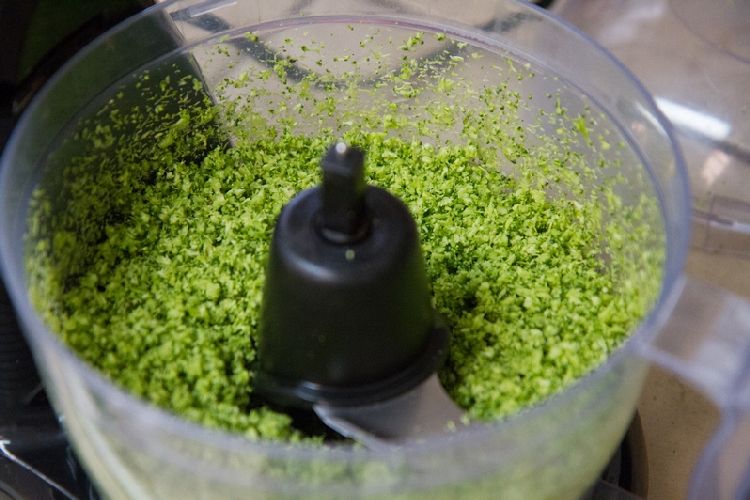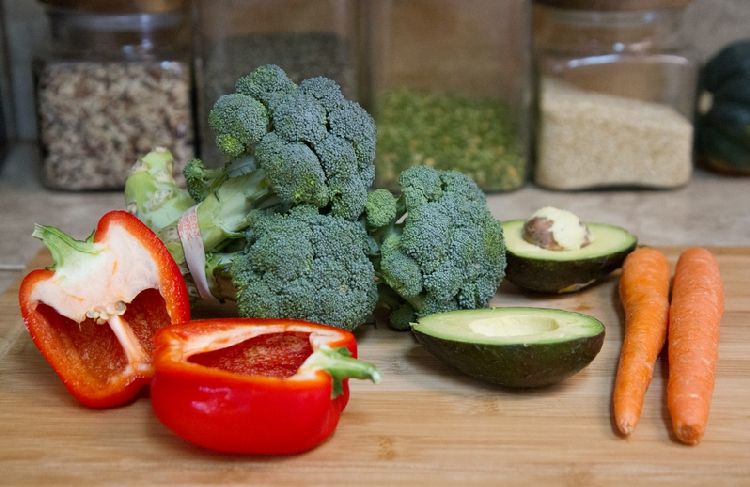 Leaving out all the unnecessary highly processed ingredients including cream and cheese, this soup combines my love of broccoli and cheese with my passion for health and vitality. What I also love about this recipe is that you can make it both raw and cooked, depending on where you are with your health and what you desire to eat at the moment.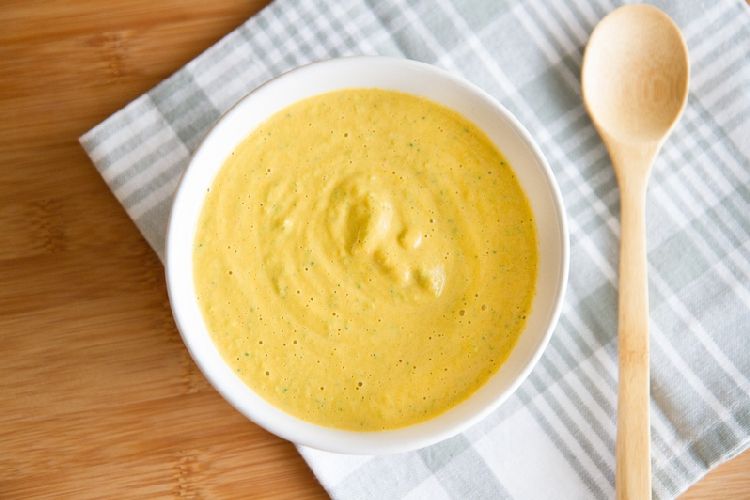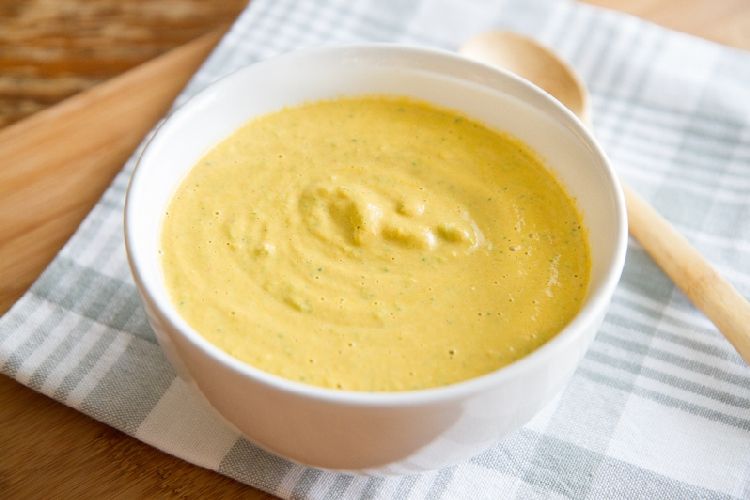 This raw vegan broccoli & cheese soup is super easy since most of it is done with your high-speed blender and food processor. It's perfect for a quick lunch and also great as a side soup which I do pretty often with my meals nowadays.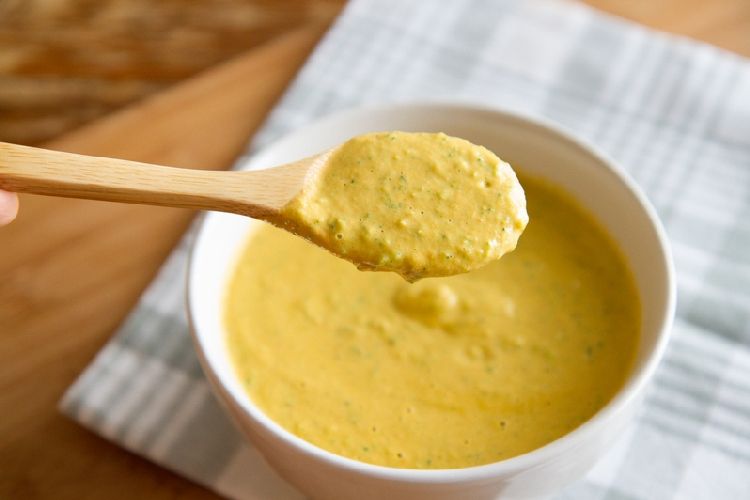 Print
Raw Vegan Broccoli & Cheese Soup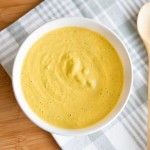 An easy and cheesy raw soup. Enjoy it as a side with any salad or dish. Perfect for those cheesy craving we all get from time to time.
Author:

Vanessa Cassani

Prep Time:

5 mins

Cook Time:

5 mins

Total Time:

10 mins
1

large head of broccoli

1

red bell pepper

2

carrots

1/2

avocado

1/2 cup

cashews (soaked)

2 tablespoons

of Nutritional Yeast

3 cups

of water

1

garlic clove

1/2 tablespoon

Himalayan Sea salt

1/2 teaspoon

cumin powder
Instructions
In your food processor add half of your broccoli head and pulse until broken down into small bits.
Then in your blender add the other half of broccoli, bell pepper, carrots, avocado, cashews, Nutritional Yeast, and water.
Also, add your spices and blend until smooth and creamy.
In a large mixing bowl combine both the creamy soup with the broccoli bits and mix well. Allow time to sit and absorb flavors.
Notes
This soup is great cold or hot. I used my Blendtec for this recipe since this blender has a soup settling. It comes out warm enough to eat but cold enough to still provide all the benefits of a raw meal.
Nutrition
Serving Size:

4

Calories:

233

Sugar:

6g

Sodium:

971mg

Fat:

13g

Saturated Fat:

2g

Unsaturated Fat:

9g

Carbohydrates:

25g

Fiber:

9g

Protein:

10g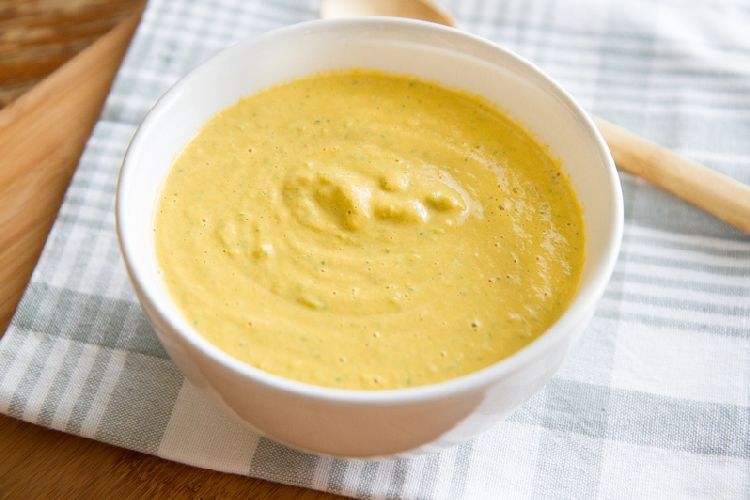 I hope you enjoy this recipe just as much as we do. If you do try this recipe, let us know what you think! Leave a comment, rate it, and don't forget to take a picture and tag me on Instagram @LiveSimplyNatural! I love to see what you come up with 🙂
Hugs,

Health Benefits
Broccoli is high in fiber and has been known to help lower cholesterol due to the soluble fiber in the vegetable, which binds with the cholesterol in the blood, making it easier to excrete. Broccoli is also packed with phytochemicals and antioxidants and has high amounts of potassium, B6, and vitamin A. It's also very high in vitamin C and is great for boosting the immune system. Many cruciferous vegetables, including broccoli, may help to protect against some stomach and intestinal cancers. They also have been known to balance estrogen levels, which may help reduce the risk of breast cancer. In addition to reducing cholesterol, broccoli can help keep blood vessels strong. The anti-inflammatory properties in broccoli may be able to prevent/ reverse damage to blood vessel linings caused by chronic blood sugar problems.
3

Comments
Incredible!! My non-vegan (non-raw) husband loves broccoli-cheddar soup and LOVED this version. Thank you!

★★★★★

Reply

This is so good!

Reply

My spouse and I stumbled over here from a different website and thought I might as well check things out.

I like what I see so now i am following you. Look forward to

looking into your web page yet again.

Reply
This is one nice addon!!