Samoa Snack Mix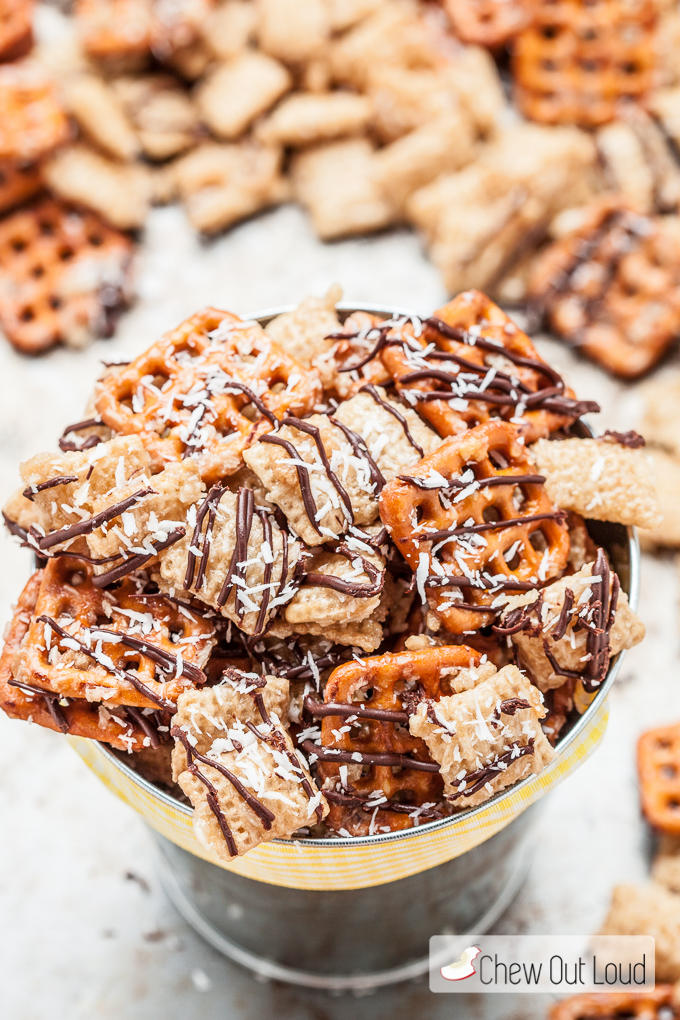 Samoa Snack Mix
Lately waves of nostalgia have been hanging in my space. I'm not exactly the sentimental type. At first glance, the nostalgia seems like random hits out of out of nowhere. Like, what is up?!
A double take is all it takes to realize. It's the end of another school year. Hello, the pattern is obvious. It has become an annual thing. When the school year comes to a close, I'm once again taken aback by how quickly time has come and gone. Snap, crackle, pop.
Why does it seem like just last night that we were stacking new backpacks and packing new lunch boxes for the Littles' first day of school? And now we're talking year-end ice cream parties. I love ice cream and I adore parties, but I'm not ready for the year to end.
I'm pretty sure All the Littles of All the Schools can't wait for summer vacation to start. Teachers totally can't wait (I was one of them.) Some moms are ready for the year to end (I'm not one of them.) Not this time…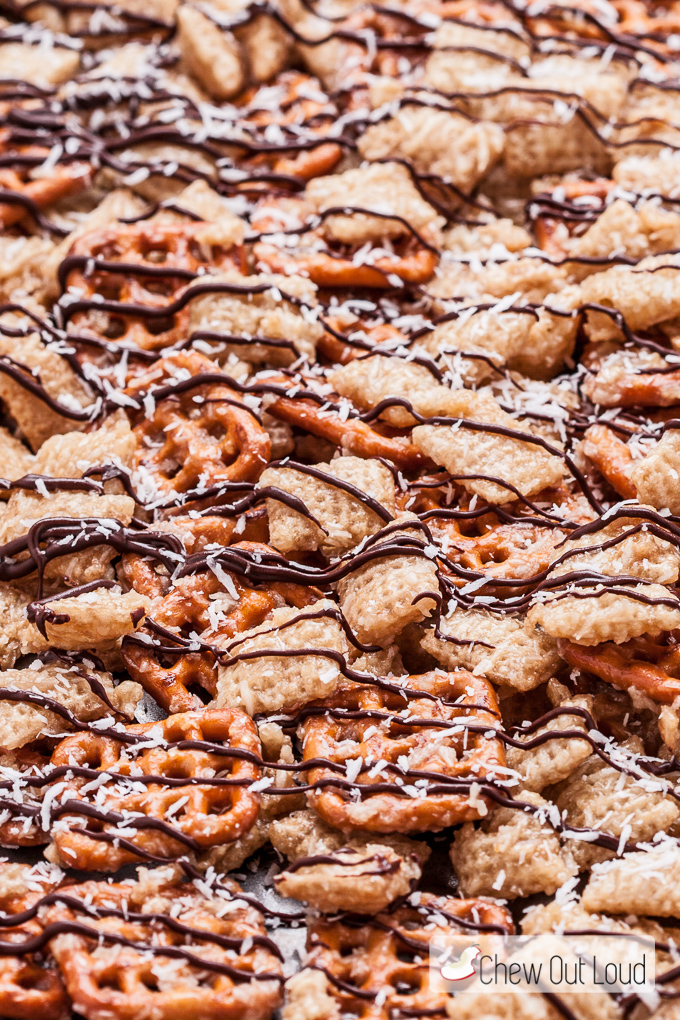 Nope, I belong to the tribe of moms who wish their Littles would stay little a little longer, please. No need to grow up so fast. What's the hurry, Kiddo? You'll get there soon enough.
But time doesn't wait just 'cause you want it to, and my Big Little is entering middle school next fall. Time out, Dude – when did that happen? And is it really only a mere 3 more weeks until he closes his elementary school locker forever?
Change is good, and I do like change sometimes, but change is also bittersweet.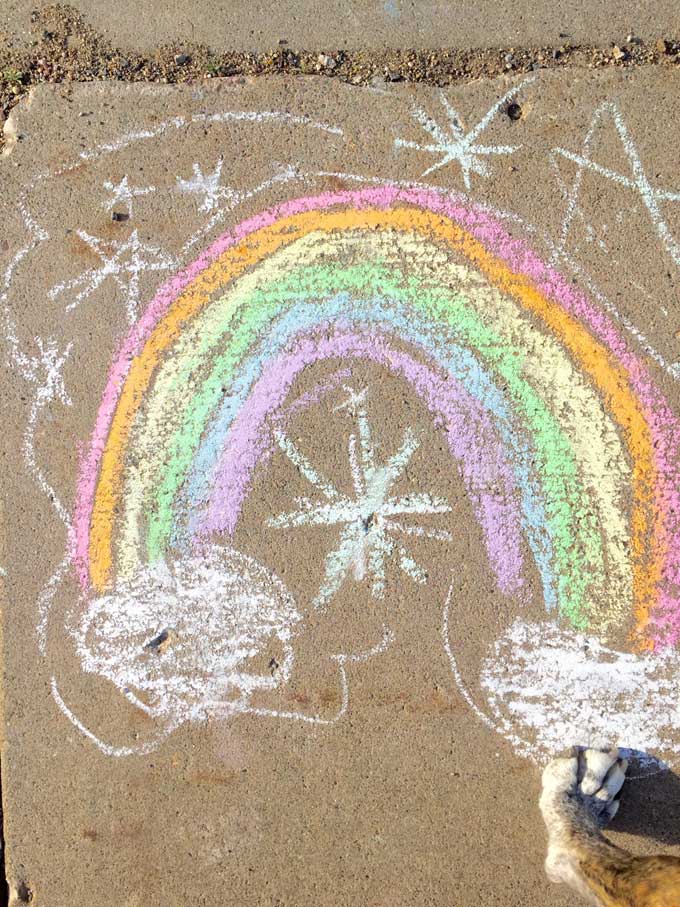 Coincidentally, that gorgeous artwork above was discovered by me and Miss Izzy – that's her paw – while on a neighborhood walk. I almost just whizzed right past it, but then I slowed down enough to remember when I used to draw rainbows on clouds with stars.
I hope my boys draw with sidewalk chalk many more years. Albeit, pastel rainbows are A Never in our world. We get fire breathing dragons with wings and scales.
Sorry, Miss Izzy refused to budge for my photo opp. She's all bulldog like that.
Now I just want to run to Target and grab a new bucket of sidewalk chalk.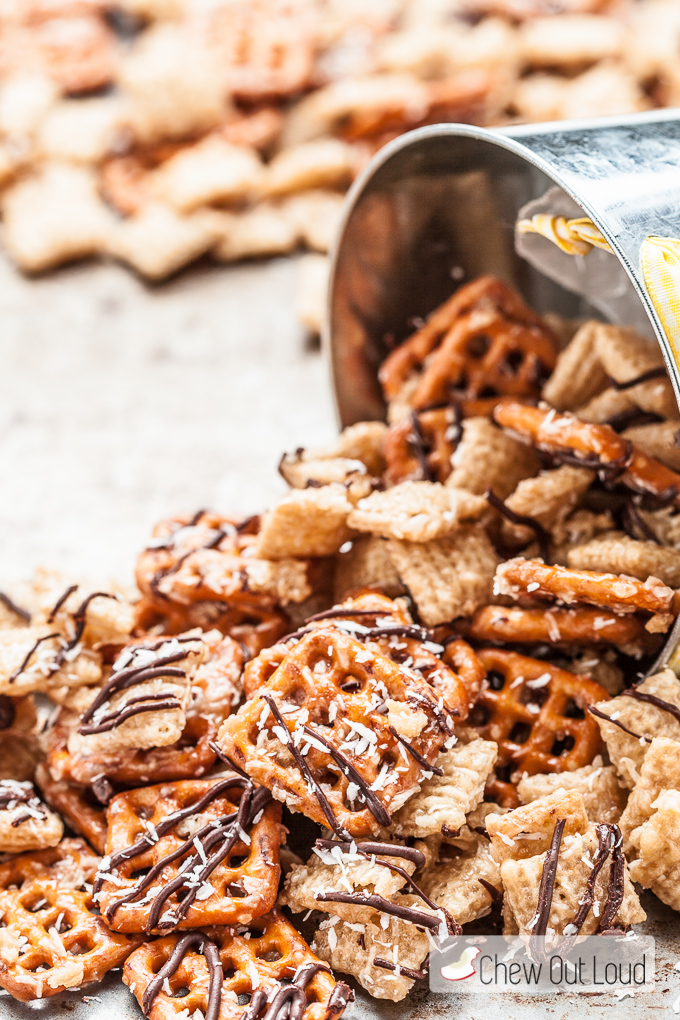 Tastes like Samoa Cookies, in Snack Mix Form
It's in the spirit of nostalgia that I bring you this Samoa Snack Mix.
After all, some of us grew up on Girl Scout cookies. I still buy them by the armful each year. I wisely tuck a box or two away in the dark recesses of the pantry, so All the Hungry Boys I live with don't snag 'em all up.
This Samoa Snack Mix is reminiscent of the forever popular Samoa cookies. They're crispy, buttery, chocolatey, and coconutty.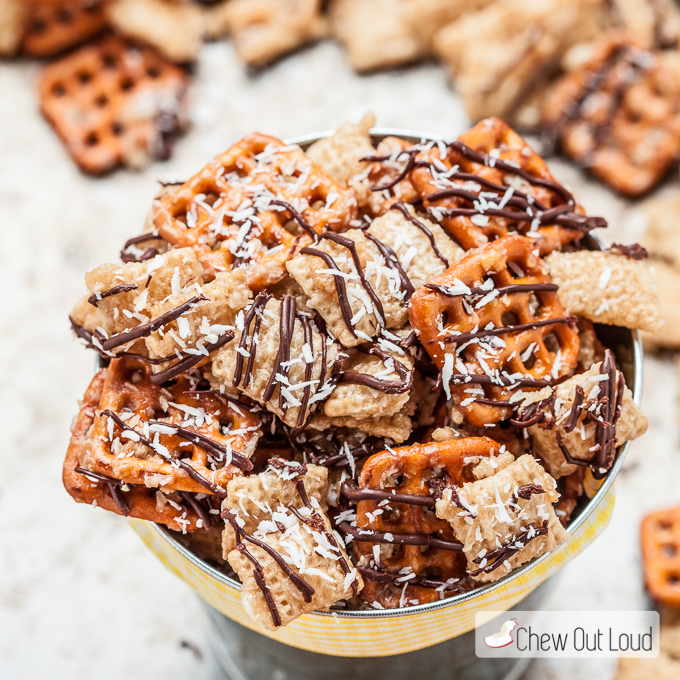 Perfect for gifts, road trips, or lunch bags
This is one irresistible snack mix. It's perfect for taking along on picnics, trips, or food-gifts. I love making this when people come over. I make a big batch to share. Do share – I fully disclosed the addictive nature of this treat.
They're even perfect for all those year-end parties. I suppose…if you can't beat 'em, join 'em 🙂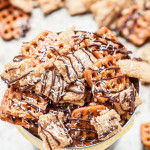 Samoa Snack Mix
This Samoa Snack Mix is reminiscent of the ever-popular Girl Scout Samoas. They're crunchy, sweet, a little bit salty, and full of your favorite flavors. This recipe makes a big batch, perfect for sharing.
¾

cup

salted butter

¾

cup

dark corn syrup

1

cup

light brown sugar

,

packed

1

box

,

12 oz Chex cereal or similar cereal

5

cups

mini crispy salted pretzels

1

cup

finely shredded unsweetened coconut

,

the dry kind

½

cup

semi-sweet chocolate chips

,

melted
Preheat oven to 250F with rack on middle position. Grease a large nonstick roasting pan. Add cereal and pretzels into pan. Set aside.

In a saucepan over low heat, melt the butter. Add corn syrup and brown sugar. Mix just until completely smooth. Gently pour mixture over the cereal and pretzels. Stir to coat. Add coconut and gently stir to combine. Place in preheated oven, stirring every 15 minutes for 1 hour. Transfer snack mix to large sheets of wax paper, in an even layer. Drizzle melted chocolate evenly over snack mix and allow to cool completely. Store in airtight containers until ready to serve. Keeps well for up to a week.
Did you make this?
Leave a comment below and tag @chewoutloud on Instagram
Here are a few more favorite snacks for all your crowd-pleasing needs: 
1. Cinnamon Sugar Candied Nuts Snack Mix. Super crunchy, sweet, a little salty, and totally yummy.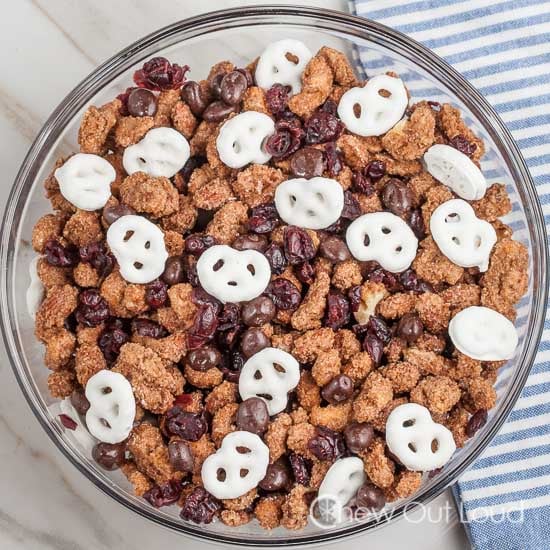 2. 5-Ingredient Energy Bites. People love little energy bites, and these deliver not only a powerful punch of protein, but they are big on flavor.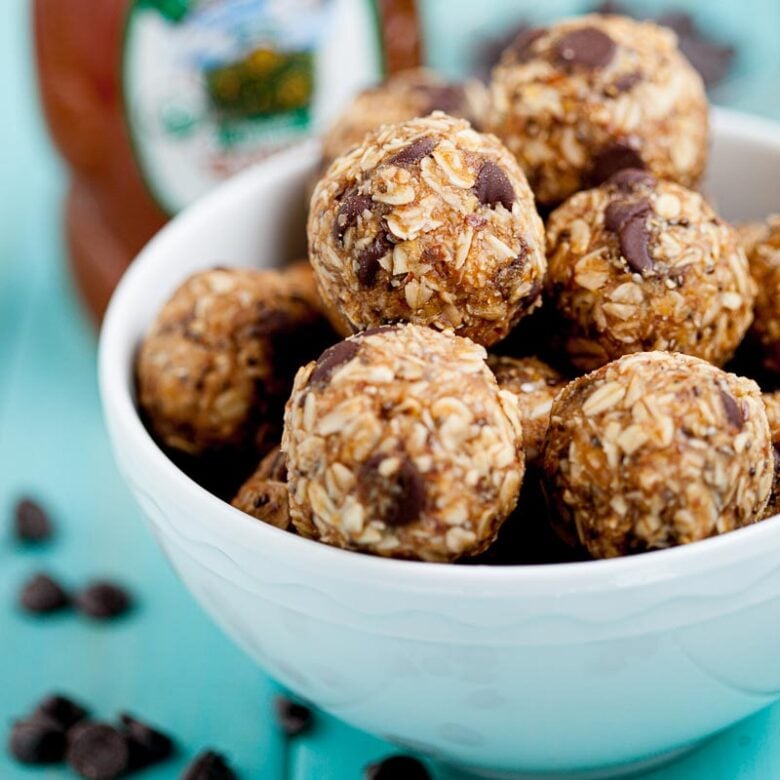 3. This Caramel Corn Recipe is the bomb! It's super crispy, buttery, and bursting with caramel goodness. We don't buy caramel corn anymore, because this stuff is WAY better than anything from the store!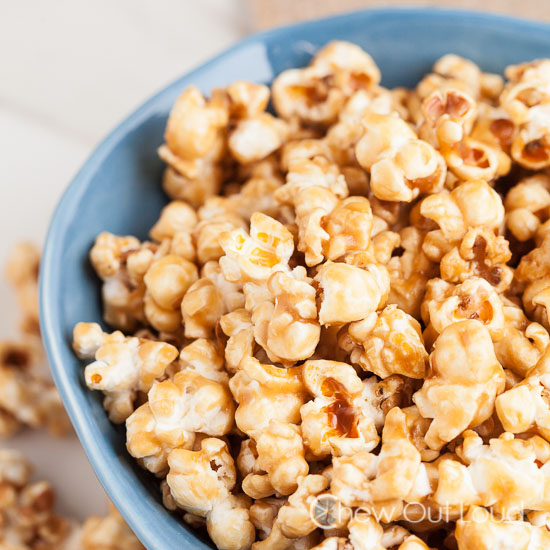 4. PB Snickerdoodle Muddy Buddies. Or I like to call these People Chow. Whatever you call them, they are sure to be snatched up in a wink. Delish!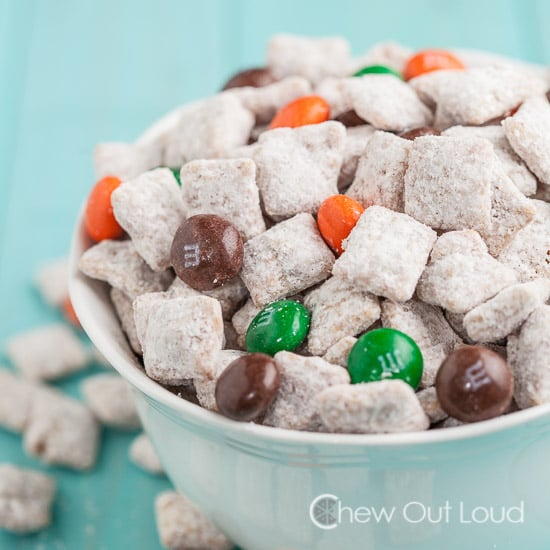 These constituents are elegant!!