Sausage And Egg Breakfast Pizza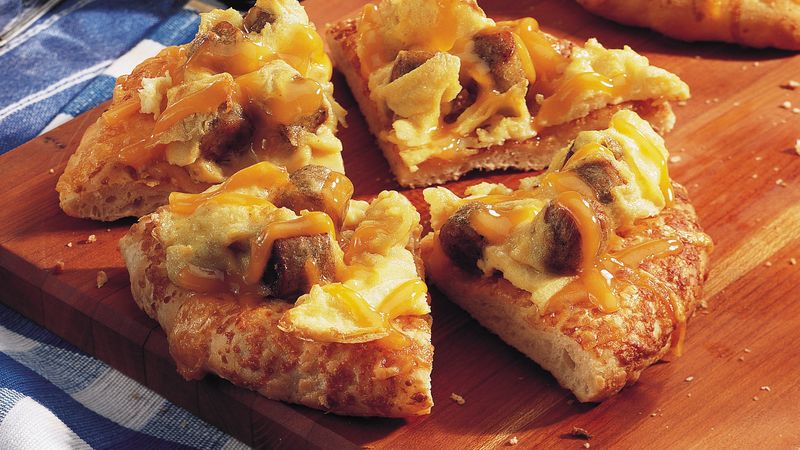 Prep


6
min


Total


26
min


Servings


4


Ready-to-serve pizza crusts make it easy to put together this morning meal.

Ingredients
1




package (8 ounces) frozen brown-and-serve pork sausage links, cut into 1/2-inch pieces

6




eggs, beaten

4




ready-to-serve pizza crusts, 6 inches in diameter

1 1/2




cups shredded Cheddar cheese (6 ounces)
Steps
1

Heat oven to 400°F. Spray 10-inch nonstick skillet with cooking spray; heat over medium heat. Cook sausage in skillet about 3 minutes, stirring occasionally, until brown; drain. Remove sausage from skillet; set aside.

2

Pour eggs into skillet. As mixture begins to set at bottom and side, gently lift cooked portions with spatula so that thin, uncooked portion can flow to bottom. Do not stir. Cook 4 to 5 minutes or until eggs are thickened throughout but still moist.

3

Place pizza crusts on ungreased cookie sheets. Sprinkle with half of the cheese. Top each with eggs and sausage. Sprinkle with remaining cheese. Bake 10 to 12 minutes or until cheese is melted.
Tips from the Betty Crocker Kitchens
tip 1


Sparkling apple cider or your favorite fruit juice goes well with this good morning goodie.


tip 2


For a veggie lift, add chopped tomato, green bell pepper and mushrooms before topping with the final cheese layer.

Nutrition
680 Calories, 46 g Total Fat, 32 g Protein, 34 g Total Carbohydrate
Nutrition Facts
Serving Size:

1 Serving
Calories

680
Calories from Fat

415
Total Fat

46 g
Cholesterol

415 mg
Sodium

1100 mg
Potassium

300 mg
Total Carbohydrate

34 g
Protein

32 g
Vitamin A

16%
16%
Vitamin C

0%
0%
Calcium

26%
26%
Iron

20%
20%
Exchanges:
2 Starch; 4 High-Fat Meat; 3 Fat;
*Percent Daily Values are based on a 2,000 calorie diet.
© 2023 ®/TM General Mills All Rights Reserved
I adore plug-ins, because they are astonishing!,
Read More