Slow Cooker Barbecue Pulled Pork Sandwich

Slow Cooker Barbecue Pulled Pork Sandwich is so easy!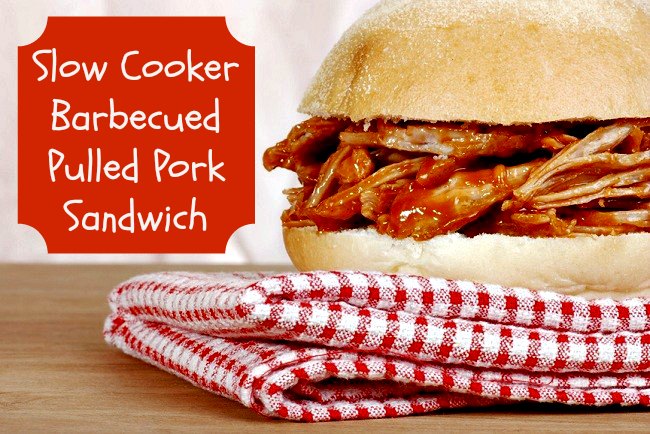 Fork tender, spicy and sweet, this slow cooker barbecue pulled pork sandwich has a unique secret ingredient – root beer![/caption]
What is the best cut of meat for Pulled Pork in your slow cooker?
Choosing the right cut of meat is very important for the success of your Pulled Pork Sandwich. The most common cut of pork used for making pulled pork is the pork shoulder. A pork shoulder is comprised of the front leg and shoulder and comes with a bone. It is a sizeable piece of meat so you may want to ask the butcher to cut the shoulder down into manageable size pieces that you will be able to fit in your crockpot. The pork shoulder is a well marbled piece of meat which is good in that it helps keep the pork from drying out in the cooking process.  You can also use a Boston pork roast or even a picnic roast.  These two cuts of meat are smaller but still very tasty and make great pulled pork. I have even used a pork loin roast and these fit nicely into the crockpot. Follow this link for an explanation of different cuts of pork – Modern Farmer.
What ingredients do you use for dry rub for your Pulled Pork?
I enjoy making dry rub for cooking pork barbecue cuts. In fact, I am always experimenting when I create the mix. For the pulled pork recipe below I used the following –
brown sugar
cumin
dry mustard
smoked paprika
onion powder
garlic powder
freshly ground black pepper
kosher salt
cayenne pepper
In the past I have used chipolte chili pepper, celery seed, celery salt, dried oregano, coriander, dried thyme and allspice. I am always expirementing as I love developing new combinations.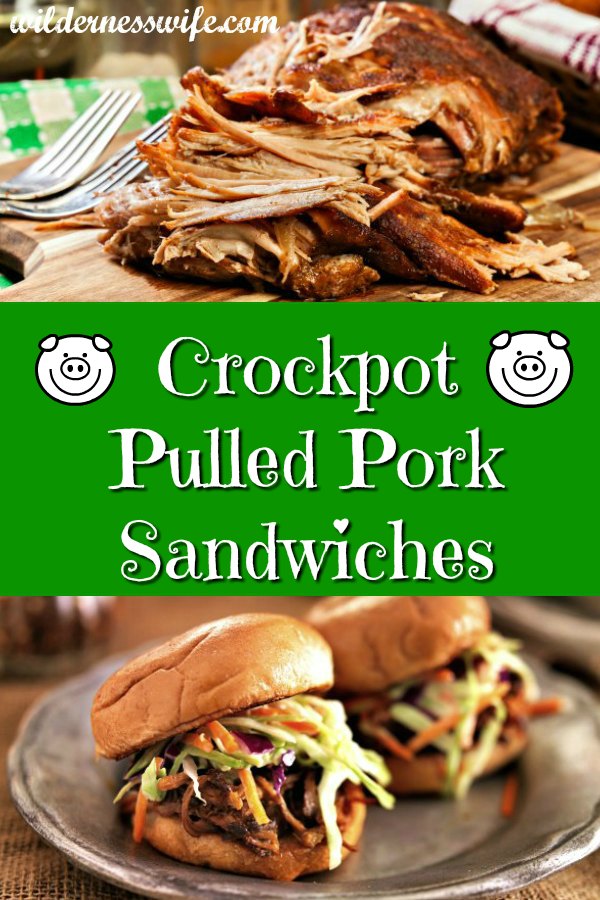 Can you overcook the pork using your slow cooker?
Be sure to set your slow cooker on low. On high it will almost boil the meat rather than slowly braise it for tender and moist pulled pork. The pork will self baste and is almost impossible to overcook.
Can you freeze the leftover pork?
You sure can and then you have an easy meal for another night. In you freezer it can last up to 6 months. If you freeze it in freezer bags, be sure to remove as much air from the bag of pulled pork as possible before freezing. Thaw it out and it can be rewarmed in a conventional oven or a microwave. If it needs more moisture just add a little more barbecue sauce.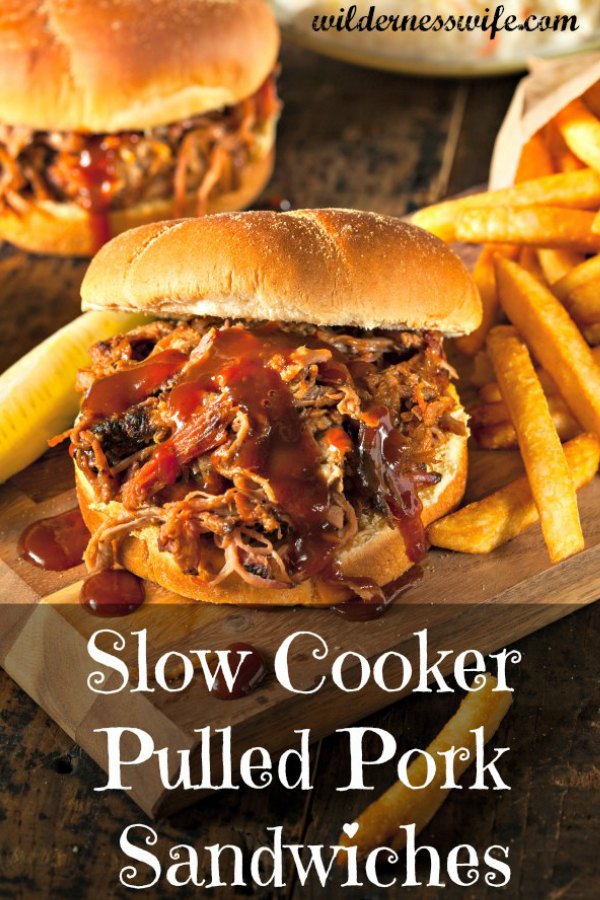 Serving your Pulled Pork Sandwiches
It just cooked away low and slow all day and came out perfect just in time for supper. The tender juicy roast, oozing barbecue flavors, shredded so easily.  I served it on toasted bulky rolls allowing everyone to choose their favorite bulky roll from a selection of onion, poppy seed, and plain. All the ingredients were set up buffet style and everyone made their own to their liking. You could choose to add barbecue sauce, coleslaw, and a number of condiments depending on your taste.  I made mine (pictured above) on a plain bulky roll with just a dab of barbecue sauce and had my coleslaw on the side. Corn on the cob and a potato salad completed the meal.
Print
Slow Cooker Barbecue Pulled Pork Sandwich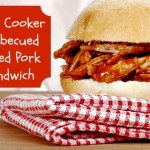 Slow Cooking a Pork Loin Roast can make a sweet and succulent Pulled Pork Sandwich anytime of the year.
Author:

The Wilderness Wife

Prep Time:

15 mins

Cook Time:

8 hours

Total Time:

8 hours 15 mins

Category:

Meat

Cuisine:

American
Dry Rub:

4

tbs. brown sugar

1 tsp

. paprika

1tsp

. dry mustard

1 tsp

. cumin

1tsp

. onion powder

1 tsp

. garlic powder

1

tbs. cayenne pepper

1/4 tsp

. black pepper, freshly ground

1/2 tsp

kosher salt
Pulled Pork:

4

lb. pork shoulder roast

2

tbs. extra virgin olive oil

1 cup

root beer soda

1/2

apple cider vinegar

4

tbs. tomato paste
Bulky Rolls of choice
Instructions
Combine all the dry rub ingredients mixing thoroughly.
Rub the "dry rub" over all the pork shoulder.
Heat olive oil in skillet.
Brown pork shoulder on all sides and both ends.
Place pork roast in a 5-6 quart slow cooker.
Pour root beer into skillet and heat to deglaze the pan.
Pour skillet contents into slow cooker.
Add vinegar and tomato paste and place cover on slow cooker.
Cook on low setting for 6-7 hours.
Remove roast from slow cooker and shred with fork.
Serve on bulky rolls with preferred condiments.
Other Wilderness Wife Slow Cooker Recipes –
Slow Cooker Cranberry Pork Roast Recipe
Slow Cooker Ham Recipe – Moist and Fork Tender
Slow Cooker Bourbon Glazed Spiral Ham
My awesome mom says this plugin is glamorous!