Sour Apple Pork Burgers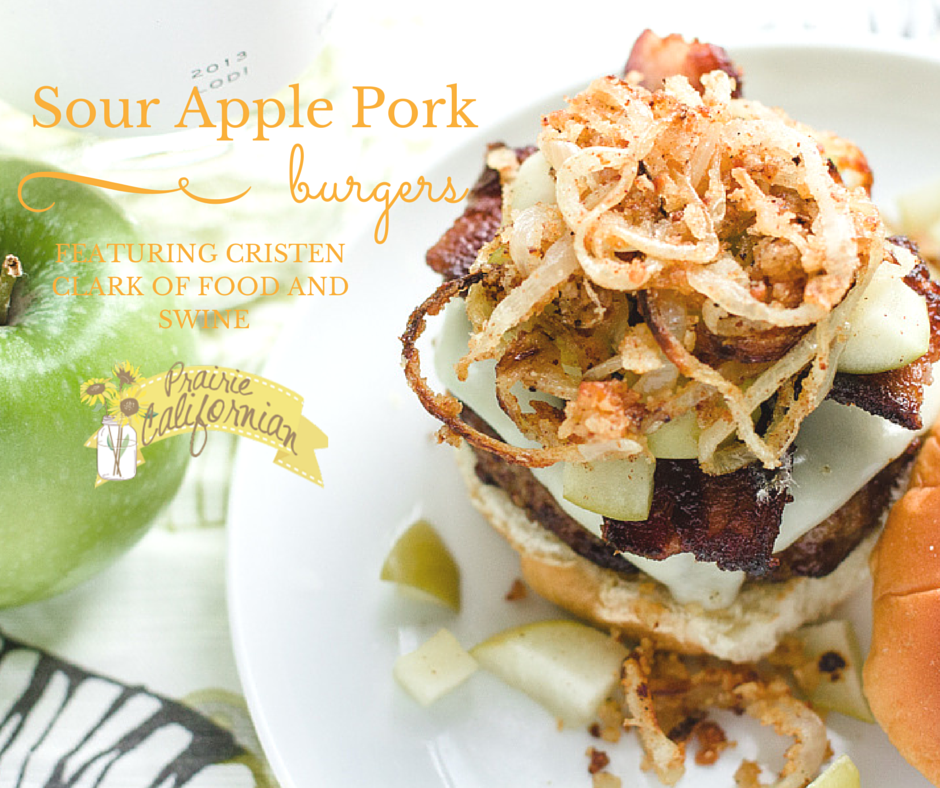 Cristen has very quickly become one of my new favorite bloggers! Honestly, her recipes are simply divine and she makes food look so PRETTY! Me… not so much. But my food still tastes good! Cristen and her husband farm along with finish hogs in Iowa. Naturally, since she is a hog producer, Cristen recommended I try out her Sour Apple Pork Burger. And I will be honest with you guys here… prior to this, I had never had a pork burger! I KNOW! The shame!! Anyway, this pork burger is DIVINE, y'all. So much so that Cristen coined it the $17,500 burger and for good reason. Cristen got the opportunity to participate in Sutter Home Winery's Build a Better Burger national burger cook-off in St. Helena, California! Her Sour Apple Pork burger took the $15,000 top prize in the Alternative Burger category as well as won the $2,500 People's Choice category! Needless to say, I am absolutely delighted to be featuring this lovely lady and wonderful advocate for Agriculture on my blog today! 
Cristen Clark

Runnells, Iowa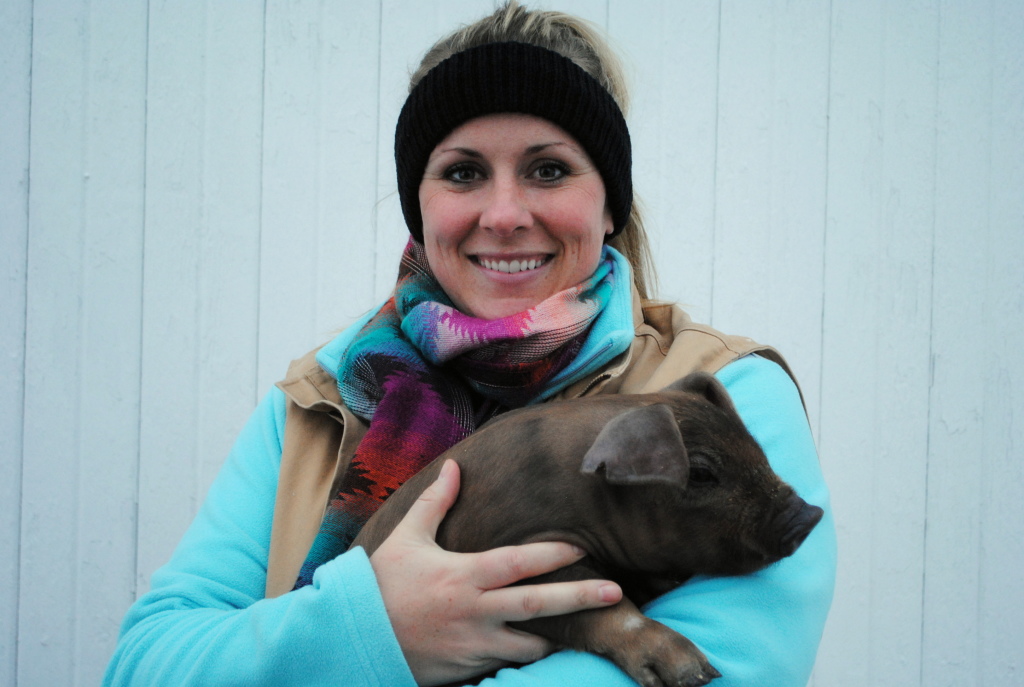 Personal History
When did you start farming? What brought you into farming?
I was raised on a row crop and beef cattle farm in central Iowa. I still farm with my immediate family and my husband and I also own modern pig barns where we 'finish' or grow to market weight, 13,000 pigs per year. My husband also sells feed and nutrition for pigs with Standard Nutrition (feed company). We also have 20 sows that we breed to show their offspring in livestock shows. We have a daughter who is 6 and a son who is 2. Our daughter loves pigs and our son loves tractors.
Farming
What has been the most satisfying part of farming for you?
Being able to work with my Mom, Dad and sister at harvest time is the most rewarding job of my life. Everyone has a role and working hard at something where you see the results of that hard work is always satisfying. Also, the Iowa State Fair is my favorite time of year when we get to show our pigs we've farrowed and raised. Our children are quite young but they certainly enjoy the fellowship with other families at the Fair, who also exhibit livestock. Show day can be a little hectic, but regardless of the outcome we always have the time of our lives. Plus, at the Fair I get tons of recipe inspiration!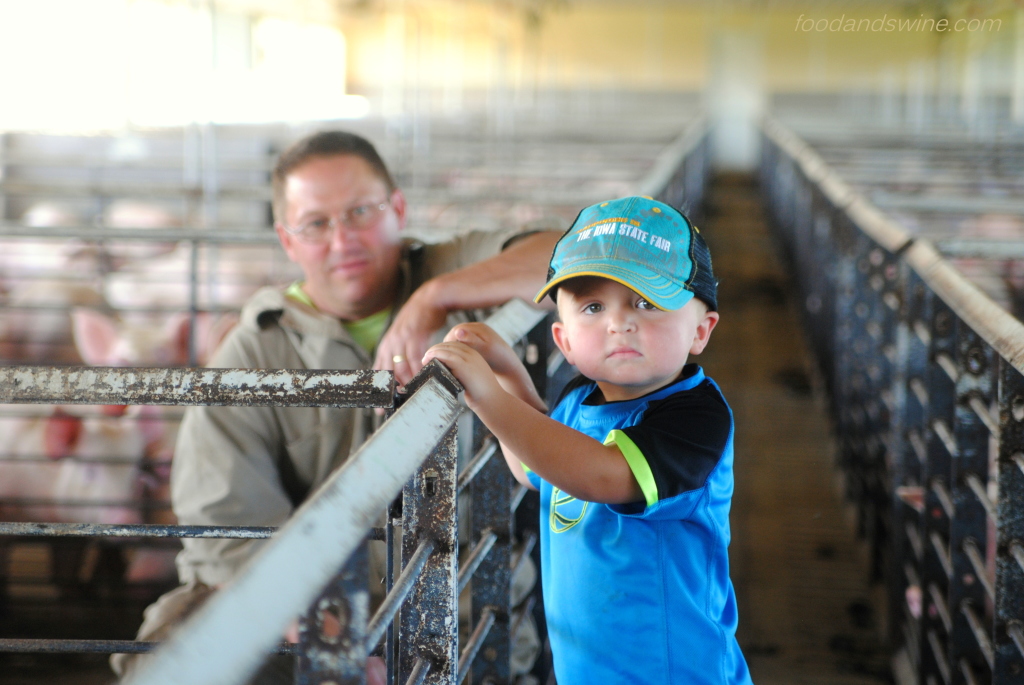 Food
What is your favorite thing to do with a food crop you grow?
 Since we raise hogs, bacon is the natural winner in our home. We love to cure and smoke our own pork bellies. I also like to smoke a nice pork shoulder as well. There are so many things to do with that succulent meat and it can be prepared in so many dishes! Ground pork is also another meat I've had lots of luck with in the past year. My $17,500 Sour Apple Pork Burger is the first recipe I had ever generated for ground pork specifically. It proved to be a 'winner' in the Sutter Home Winery Build A Better Burger Contest this past May.
Future of Farming
What is one message you'd like to get across to the general public about what you do?
The most difficult thing to see unfold on social media is the misinformation and food-fear mongering. I hope that everyone that has a question about their food and how it is raised will consult an expert and trustworthy sources. I'm supportive of all types of foods and it is a humbling feeling to have as many choices as we do in this part of the world. Never hesitate to ask a question of someone who grows or raises the food you eat. As farmers, we are so proud of what we do, we have to be. Otherwise, what would all of the hard work be for?
To find more from Cristen, you can visit her blog and website at Food and Swine, you can give her Facebook page a LIKE, Tweet with her on Twitter @FoodSwineIowa, or check out all the fabulous photos she shares on Instagram!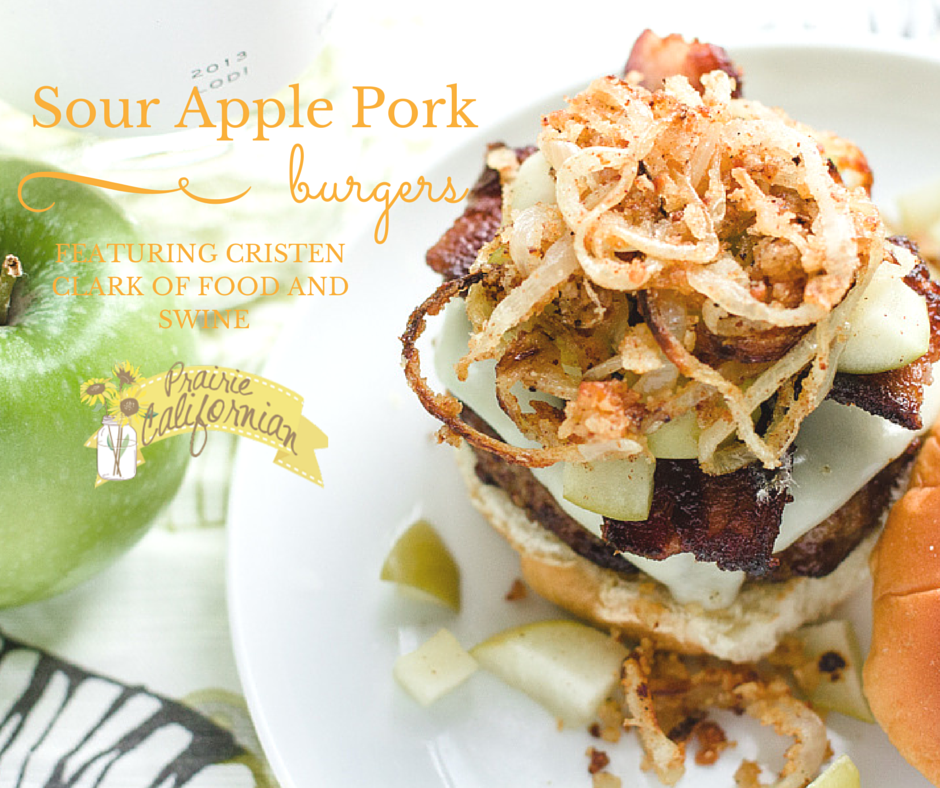 Okay so now that I've spilled my guts about how I've commited the sin of never trying a pork burger…. I have to admit, these were DELICIOUS! They did take quite a bit of a time and work to prepare, but they were 110% WORTH IT! The caramelized bacon with the sour apples and crispy onions… It is clear why Cristen won with this burger! Hope you enjoy it too!
Another note: since I live in the artic tundra, I cooked this entirely indoors on my stove versus freezing outside grilling! I'll leave the frigid grilling to my hubby! 😉 
Print
Sour Apple Pork Burgers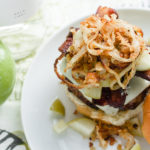 CAYENNE-APPLE-CANDIED BACON

1

pound ultra-thick sliced smoked bacon

1/3 cup

packed brown sugar

1/4 cup

apple butter

2 tablespoons

Sutter Home Chenin Blanc

1/8 teaspoon

ground cayenne
SOUR APPLES

3

Granny Smith apples, peeled, cored, and cut into

1

-inch cubes

5 tablespoons

sugar

3 tablespoons

Sutter Home Chenin Blanc

2 teaspoons

fresh lemon juice

1 teaspoon

fresh lemon zest

1 teaspoon

vinegar

1/2 teaspoon

ground cinnamon
POTATO CHIP-ONION HAYSTACKS

1 quart

peanut oil for frying

2

Vidalia or other sweet onions, sliced into very thin rings

1 cup

buttermilk

5 cups

Kettle Brand Sea Salt Potato Chips

1/3 cup

all-purpose flour

1/2 teaspoon

freshly ground black pepper

1/2 teaspoon

salt, divided
APPLE BUTTER GLAZE

1/3 cup

apple butter

1/4 cup

Sutter Home Chenin Blanc

2 tablespoons

butter, melted
PATTIES

2

pounds ground pork
Reserved bacon drippings (from above)

1/2 cup

shredded Granny Smith apple

1/4 cup

Sutter Home Chenin Blanc

1/4 cup

crushed Kettle Brand Sea Salt Potato Chips

2 tablespoons

Lawry's Seasoned Salt
Vegetable oil, for brushing on the grill rack

6 ounces

white Cheddar cheese, preferably Maytag Dairy Farms

6

Kings Hawaiian Original Hawaiian Sweet Hamburger Buns, split

1/3 cup

apple butter
Heat a gas grill to medium-high.
To make the bacon, set a fireproof skillet on the grill rack. Add the bacon and cook until chewy, then transfer to a work surface. Combine the brown sugar, apple butter, wine, and cayenne in a small bowl. Brush the mixture over both sides of the bacon. Return the bacon to the skillet and cook until chewy crisp and the coating is caramelized. Transfer to a plate and set aside. Strain and discard solids from the bacon drippings and pour into a large mixing bowl; reserve for later use.
To make the apples, wipe the skillet with paper towels. Add the apples, sugar, wine, lemon juice and zest, vinegar, and cinnamon. Stir and cook until thickened, about 5 minutes. Pour into a bowl and set aside.
To make the haystacks, place a large, high-sided, cast-iron pan on the grill rack. Pour in the oil and heat to 350 degrees F. Place the onions in the buttermilk and set aside for 10 minutes. Meanwhile, pulse the potato chips in a food processor until very fine, then transfer to a large mixing bowl and stir in the flour and black pepper until well incorporated. Working in two batches and using tongs, gently lift the onions out of the buttermilk, shaking gently over the bowl to release excess liquid, then drop into the potato chip mixture and toss gently until well coated. Gently lower into the hot oil and fry until golden brown, about 2 minutes. Transfer to a paper-towel-lined plate to drain. While warm, sprinkle with 1/4 teaspoon of the salt and break into three equal pieces. Repeat with the remaining onions. Set aside until assembling the burgers. Remove the skillet from the grill.
To make the glaze, combine all of the ingredients in a small bowl and whisk well.
To make the patties, add the pork to the bowl containing the reserved bacon drippings. Add the apple, wine, and chips and toss with a fork gently to combine. Form 6 equal patties, depressing the centers with your thumb so they don't puff during grilling. Sprinkle both sides of the patties with the seasoned salt.
Brush the grill rack with vegetable oil. Place the patties on the rack, cover, and cook for 5 minutes, then brush liberally with the glaze. Turn the patties over carefully and brush with more of the glaze. Cover and cook for 3 minutes longer. Place 1 ounce of the cheese on each patty. Cover and cook until done, about 3 minutes longer for medium. Transfer the patties to a plate to rest until assembling the burgers.
Place the buns, cut sides down, on the grill rack to toast lightly. Spread the cut sides of the rolls with the apple butter.
To assemble the burgers, place a cheese-topped patty on each bun bottom. Top each with 2 slices of the bacon, followed by 2 tablespoons of the apples, a mound of the onions, and the bun top. Serve immediately.
This post is part of my Thirty Days of Food series where I am writing about food and farming for the entire month of November, to find out more about it all or how to follow along, visit my Thirty Days of Food page or click the photo below to find more great recipes with farmer features!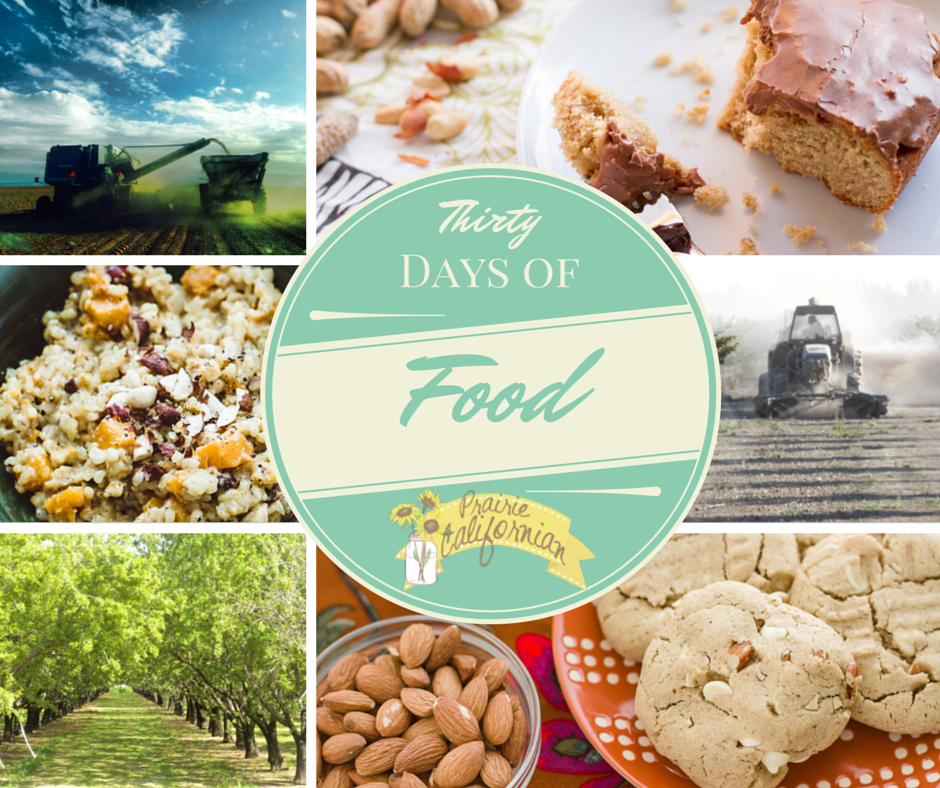 This is one nice ingredient!