Vegan Broccoli Rice Breakfast Quiche

Easy vegan and gluten-free quiche with tofu, broccoli, and tomato. Perfect for a protein-packed weekend breakfast, brunch, or brinner.
Sometimes I write my blog posts backwards, starting at the recipe bottom and working my way up to the tippy top.
Lately I've been having trouble getting from point A to point B, so maybe we can take it B to A for a change.
Anyone else have a weird week?
Dan was in Puerto Rico for a work retreat and every picture he sent me of palm-tree studded beaches and bright blue skies and water made my heart ache.
It's only January and I'm already ready for my vacation!
Before you book yours, I'm offering you a vacation from your usual breakfast.
This Vegan Broccoli Rice Breakfast Quiche has less than 10 ingredients for a compact nutritious start to your day!
I can probably count on one hand the number of times I've had actual quiche in my life.
And my finger count is three.
I actually just googled the difference between a frittata and a quiche and now I'm thinking this whole recipe might be more frittata than quiche, but both have eggs and my version does not so I'm thinking I can just call it whatever I want to.
Is that cool with you?
This tofu-based quiche holds its shape and its flavor– it's savory, filling, and lots of fun to make.
The quiche filling is a mix of puréed tofu and hummus jazzed up with simple seasonings.
Nutritional yeast and turmeric add that rich "cheesy" and "eggy" flavor without any added dairy!
Most tofu quiche recipes call for silken tofu, but I found this made the quiche soupy and unappetizing.
I recipe tested both firm and extra-firm tofu and found that firm works the best!
If you only have extra-firm tofu on hand, try using it with a splash of almond milk to get the blades moving.
For veggies, I went with broccoli, cherry tomato, and onion.
The trick is to sauté the vegetables before adding them to the tofu mixture so they're already tender and pliable.
If you have mushrooms, spinach, or black olives on hand I think they'd be fantastic mixed in, too!
I used Cece's Veggie Co. Organic Riced Broccoli to cut down on prep time.
This organic broccoli rice is ready to go straight from the packaging with zero washing, chopping, and grating required.
So when do you make a Vegan Broccoli Rice Breakfast Quiche?
I'm so glad you asked, because this quiche works anytime!
I think it would be perfect for a weekend breakfast, lunch, or brinner situation.
It's great with a smattering of fresh herbs and scallions.
Try serving it with hummus, sriracha, ketchup, hot sauce, or guacamole.
If you want a fun idea for how to turn this into meal prep, try diving the batter into muffin tins for individual quiche cups for meals and snacking on the go.
Enjoy! 
If you make this Vegan Broccoli Rice Breakfast Quiche, let me know!
Be sure to leave me a comment, rating, and review so I can use your feedback to create more yums. 
Give me a shout on Instagram and use #floraandvino to show me your creations.
Check out my Pinterest page to pin more recipes like this one to make later.
For more savory breakfast inspiration, check out my Loaded Tofu Scramble Bowl for One, Chickpea Scramble Waffle Stackers, and Sweet & Savory Breakfast Salad.
Love this post and want more? Go to my homepage and subscribe to get updates delivered right to your inbox!
XO Lauren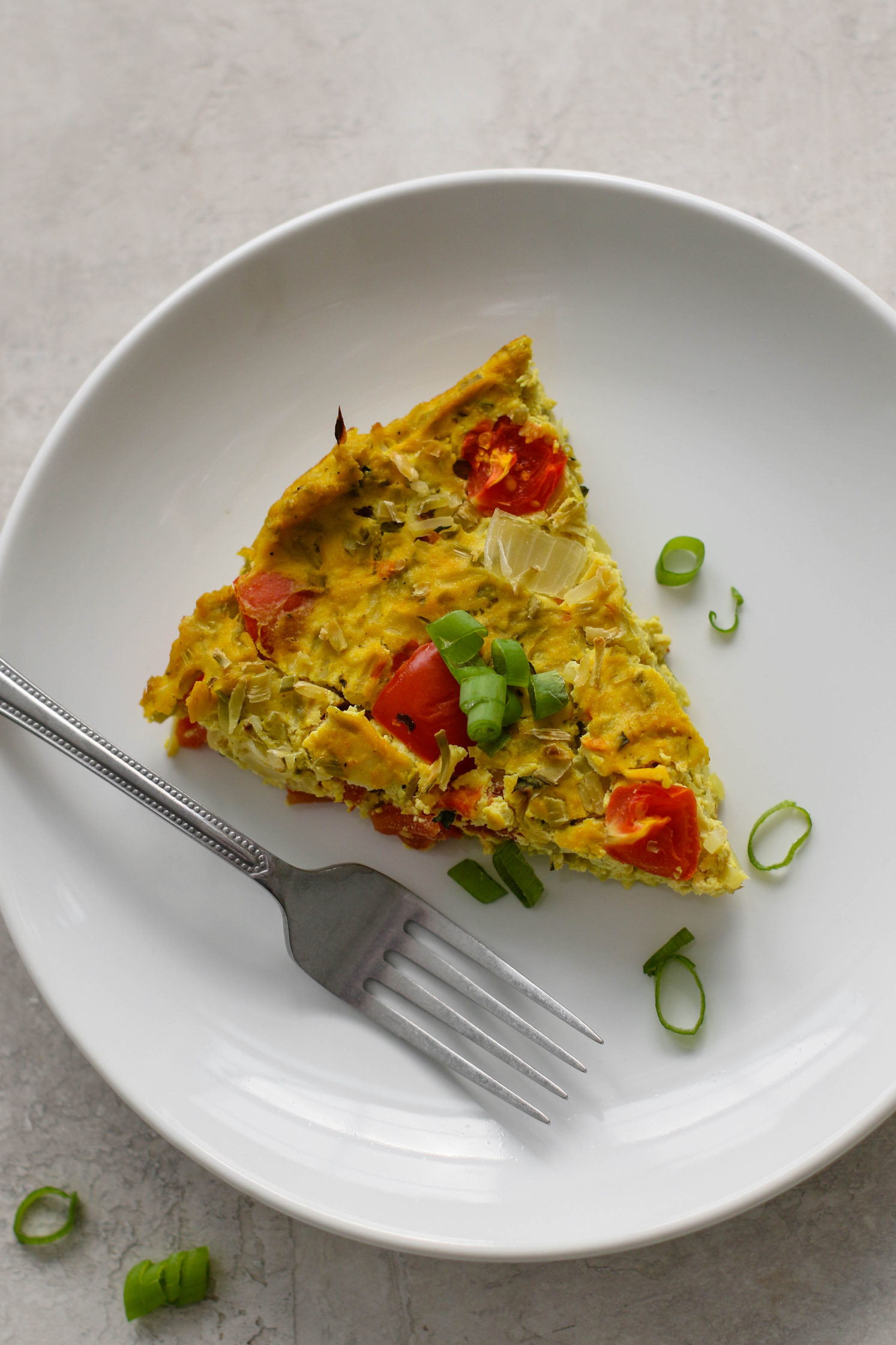 Print
---

Author:

Flora & Vino


Total Time:

45 minutes


Yield:

4 servings


Diet:

Vegan
Description
Easy vegan and gluten-free quiche with tofu, broccoli, and tomato. Perfect for a protein-packed weekend breakfast, brunch, or brinner.
---
Tofu Quiche
1

package firm tofu, rinsed patted dry, and quick-pressed

1/4 cup

nutritional yeast

1/4 cup

hummus

1/8 tsp

Himalayan sea salt

1/8 tsp

black pepper

1/4 tsp

garlic powder

1/2 tsp

ground turmeric powder
Vegetables
1/2 TBSP

avocado oil

1/2

medium white onion, diced

1 cup

cherry or grape tomatoes, halved

3 cups

Cece's Veggie Co. Organic Riced Broccoli (

1

small head broccoli, roughly chopped)
For serving
---
Instructions
Preheat the oven to 375°F and lightly grease a baking dish with avocado oil.
Heat the avocado oil in a large pan over medium heat. Once it's warm, add the onion and riced broccoli. Stir to coat, cover, and cook for 6-8 minutes, until softened and fragrant. Add the halved tomatoes in the last minute.
To prepare tofu filling, add the drained tofu to a food processor with nutritional yeast, hummus, sea salt, black pepper, garlic powder, and turmeric powder. Blend everything until it's smooth and creamy, scraping down the sides as needed to recombine.
Add the tofu mixture to the broccoli rice in a large mixing bowl and stir well to ensure that the vegetables are well coated.
Spread the mixture into the baking dish in an even layer with a spatula. Top the quiche with more halved tomato, if desired.
Bake the quiche for 30–35 minutes or until the top and edges start to appear gold brown.
Remove the quiche from the oven and allow it to cool for 10-15 minutes before serving.
Slice the quiche into quarters and served with diced scallions and a dash of sriracha, if desired.
Store the leftovers in an airtight container in refrigerator for 2-3 days and reheat in the microwave before serving.
Prep Time:

10 mins

Cook Time:

35 mins

Category:

Breakfast, Brunch

Method:

Oven-Bake

Cuisine:

Vegan, Gluten-Free, Grain-Free
This post is brought to you by Cece's Veggie Co., but all words and eats are my own. Thanks for supporting the sponsors that keep me hungry!
My brother says this plugin is glamorous!!